From all day hot drinks, a co-working space, art gallery, tech-free garden walks and talks, interactive sessions, and live Dialogues & Debates – there is something for everyone at MozFest House: Amsterdam, happening 19-21 June. !
MozFest House is a local extension of MozFest, the premiere gathering for activists in diverse global movements fighting for a more humane digital world.
Shaping public policy that contributes to and advances a healthy internet and Trustworthy AI is critical if we are to actualize a more humane digital world. We invite all who advocate for, work with, and are interested in public policy to join us at MozFest House: Amsterdam to gather with like minded activists to spur action.
Here are a few sessions happening at MozFest House that we'd to have you attend:
Critical Feminist Interventions in Trustworthy AI and Technology Policy | Who are the people engaged along the entire lifecycle of design, development, and deployment of AI – from the material resource extraction to the value that's created and experienced by people? This roundtable discussion will focus on what critical feminist interventions could empower trustworthy AI.
Fostering Transparency and Building a Cooperative Economy | By being open and transparent about how things work, we can build trust and empower people to hold tech companies accountable. This roundtable discussion about cooperative economies will outline actionable recommendations for policymakers, industry leaders, and civil society organizations.
Democratise the development of Artificial Intelligence policies | A human-centered approach in the design of legal and regulatory frameworks is key to ensuring that AI systems respect human rights. In this workshop, you'll be inspired and equipped with practical guidance and knowledge on designing inclusive policy co-creation processes.
To move the needle towards Trustworthy AI, we are dependent on the people who are building the systems and processes to fight for transparency, to remove bias, and to embrace data stewardship. AI impacts nearly every technology we interact with today, and how we approach AI determines how much privacy, safety, trust, transparency, and fairness we create for ourselves and one another online and off.
If you are passionate about technology, here are some of the sessions we think you'll enjoy at MozFest House: Amsterdam.
Who Pulls The Strings Of AI | A challenge for developing AI in a responsible way is to address how power dynamics influence the creation of an AI system. Using boundary objects, AI power dynamics become tangible and interactive at this MozFest House session, even for those with no technical experience.
Practical Tools for Responsible Tech & AI | Join this hands-on workshop to gain a holistic view of the tools and practices that Thoughtworks applies to the socially responsible development of AI solutions, including a Responsible Tech Playbook and new ebook: "Three lenses to help design better, socially responsible AI".
Generative AI: Hype busting and Best Practices | Image and text generating tools such as Midjourney and ChatGPT affect advocacy and activism in a number of ways. In this workshop, collaboratively identify risks for how these tools affect our work and the rights of others and discuss best practices to navigate these tools ourselves.
Technology, AI, and art go hand-in-hand at MozFest. Our relationship with technology shapes how we view, experience, and create art. In turn, our art should shape how we view, use, and create technology. We welcome artists from all walks of life and skill level to share their work, experiences, and ideas about the intersection of technology and art with us at MozFest House: Amsterdam. Let's collectively push the boundaries of what we can create and experience!
Here are a few of the sessions at MozFest that we think you'll love:
The Anticipation of Rain | "What do you feel about rain?" During an interactive discussion, paint, draw, write, or say something about your experience. Then, you'll be able to participate in a 7 minute VR experience, complete with two scents associated with monsoon rain.
Cross-cultural & Generational Interactive Media Exploration | In this workshop, use words contributed by women/womxn from over 40 countries to create art that explores concepts of beauty and gender through the PearAI.Art participatory app, countering AI's misperceptions of us.
Ethical Dilemma Cafe | Grab a hot drink, explore installations, listen to inspiring talks and join workshops that raise the issues we face with data today. What personal data would you give up for a free hot drink?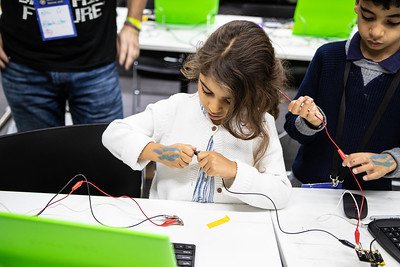 From fostering transparency to data stewardship, it's critical that everyone has awareness and equal access to participate in our digital world. Educators from all industries and backgrounds are welcome to join us as we explore how to engage all generations in key digital literacy skills that will help us collectively create a more humane digital world.
Here is a snapshot of the more than 30 sessions happening at MozFest House that you might like:
Tech We Trust | We need to prepare the next generation of digital leaders to understand the dangers of biased algorithms. In this fun workshop, design your own algorithm, and then see it in action. Can you be fair? Or are you accidentally creating a disadvantage among your peers?
Designing with Care Principles | In this interactive workshop, learn about the comparative research among astrologers and financial forecasters on making predictions. Flexibility and adaptability, taking into account the biases, active contribution, and increasing transparency are just a few of the principles for designing with care that you will explore.
The World According to TikTok: Mapping Digital Boundaries and Algorithmic Proximities | TikTok is a popular platform that must operate within and adapt to different cultures and geopolitics, even when presenting as a neutral or apolitical platform. This workshop will present free tools, cross-national methodologies, and the recent research investigating TikTok to make opaque platform decisions more transparent and hold them accountable.
MozFest is part art, tech and society convening, part maker festival, and the premiere gathering for activists in diverse global movements fighting for a more humane digital world. To learn more, visit www.mozillafestival.org.
Sign up for the MozFest newsletter here to stay up to date on the latest festival and internet health movement news.