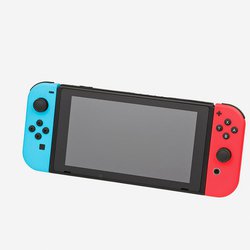 Nintendo Switch
Review date: Nov. 8, 2021
|
|
Since we launched *Privacy Not Included back in 2017, the Nintendo Switch has sat at the top of our list of products users find least creepy. Good on Nintendo for doing a great job with privacy. And for featuring sweet games like Animal Crossing: New Horizons, Super Mario, the Legend of Zelda. Good guy Nintendo also puts a lot of emphasis on easy-to-use parental controls. Dear Santa, we've been really good this year.
What could happen if something goes wrong?
First off, SET UP TWO-FACTOR AUTHENTICATION! If you don't set up two-factor authentication, someone could hack into your Nintendo account and buy a bunch of games at your expense. That could be costly and you don't want that headache.
Nintendo does a pretty good job with privacy, security, and parental controls. They did have a data breach in 2020 where 300,000 accounts were compromised and attackers gained access to users personal information, including date of birth and email addresses. That's not great.
It's also good to be aware that while Nintendo doesn't sell your data to third parties, they do say they can share your data with some third parties for things such as advertising, which is pretty normal. They also say they may collect information about you from other sources, including sources that sell information. And if you log into your social media through your Nintendo, they say they may collect information from these third parties. Finally, some of the games you play on the Switch made by other companies might be collecting and sharing your data, so keep an eye on that. Overall we're not too worried about Nintendo. Still, it's always good to opt-out of data sharing when you can.
mobile
Privacy
Security
A.I.
Can it snoop on me?
What can be used to sign up?
What data does the company collect?
Personal
Name, email, phone number, date of birth, gender
How does the company use this data?
How can you control your data?
What is the company's known track record of protecting users' data?
In April 2020, 300,000 Nintendo accounts were compromised in a data breach which granted the attackers access to users personal information, including date of birth and email addresses.
Can this product be used offline?
User-friendly privacy information?
Links to privacy information
Encryption
Uses encryption in transit and at rest.
Manages vulnerabilities
Nintendo has a bug bounty program, which means that anyone who finds a security issue and discloses it responsibly may get paid. https://hackerone.com/nintendo
---
News
---
Comments
Got a comment? Let us hear it.