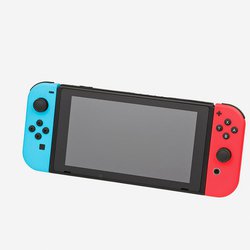 Warning: *privacy not included with this product
Nintendo Switch
Review date: Nov. 9, 2022
|
|
What would the world be like without Mario, Zelda, and Animal Crossing? Worse, for sure. Whether you play Mario Kart on the Nintendo Switch or on the cheaper Switch Lite, you're still going to have good time. And we've always liked that good guy Nintendo puts a lot of emphasis on easy-to-use parental controls and an easy to read privacy policy. Which is why we're a bit bummed to see Nintendo recently made some changes to their privacy policy that raises some red flags for us. Nintendo has always been pretty good at privacy, so we're feeling a little like getting hit with the triple banana on the last lap here.
What could happen if something goes wrong?
Oh Nintendo, you're breaking our heart. We don't want to give you our *Privacy Not Included warning label, we really don't. You've been so good at privacy in the past. But your privacy policy raises some red flags for us and that makes us sad. (And hey, thank you for making your privacy policy easy to find and read and understand, we do appreciate that.)

First off, Nintendo does collect a fair amount of personal information. Things like name, email address, postal address, phone number, date of birth, country of residence, language, gender, device and advertising identifiers and other unique personal or online identifiers, location (with your consent), health information (with your consent), and lots of information about how and when and what games you play.

Nintendo also says they can "receive information about you from other sources, including from other users of our services, and third-party services and organizations." This worries us a bit because they say they can take this information they receive from third party sources and combine it with information they have about you and build an even bigger profile on you. And they say they can use that information to do things like offer you customized content, provide you with tailored advertising, and send you promotional materials from them or their affiliates and business partners (which could be a pretty good number of companies). So, Nintendo collects a good deal of personal information and says they can use and share that with third parties for targeted, interest-based advertising. None of this is great.

Nintendo also says they can aggregate or de-identify the personal information they collect on you and then that new de-identified data is no longer subject to their privacy policy and they can do pretty much whatever they want with it. Which is pretty common, but still can be a bit of a concern as it's been found to be pretty easy to re-identify some of this data, especially with location data.

Finally, it seems Nintendo doesn't specifically say all users, regardless of where they live, have the same rights to access and delete their data, which is what we like to see. Right now they say, "Depending on your place of residence, you may have the right, in accordance with applicable law, to request access to, deletion, and portability of your information." We believe it's important for everyone to have the same right to access and delete data, regardless of the data privacy laws they live under. And we believe companies should grant that right, even when they aren't required to by law. Here's hoping Nintendo will change their privacy policy to fix this.

That's the bad news with Nintendo. Now on to some good news. They do say that they do not, and will not, sell your data. That's good. Too bad they do share it with third parties for advertising purposes. And they do a good job with parental controls on the Switch. So parents, make sure to set those up (here's some help with that).

As for security, Nintendo did have a data breach in 2020 where 300,000 accounts were compromised and attackers gained access to users' personal information, including date of birth and email addresses. That's not great. And early in 2022, Nintendo had to ask users to stop using their Wi-Fi USB Connector due to security concerns.

So what's the worst that could happen with your Nintendo Switch? Well, if you don't set up two-factor authentication (please do this!), it's possible someone could hack into your Nintendo account and buy a bunch of games at your expense. That could be costly and you don't want that headache. Here's hoping you set-up 2FA, lock down your Nintendo privacy settings and opt-out of as much data collection as you can, so you can sit back and enjoy some Mario Kart, Splatoon, or Sonic with your friends.
Tips to protect yourself
Check the Nintendo Switch privacy settings
Enable two-factor authentication on your Nintendo Switch account
Opt out of sharing your eShop data.
Do not sign up with third-party accounts. Better just log in with email and strong password.
Chose a strong password! You may use a password control tool like 1Password, KeePass etc
Use your device privacy controls to limit access to your personal information via app (do not give access to your camera, microphone, images, location unless neccessary)
Keep your app regularly updated
Limit ad tracking via your device (eg on iPhone go to Privacy -> Advertising -> Limit ad tracking) and biggest ad networks (for Google, go to Google account and turn off ad personalization)
Request your data be deleted once you stop using the app. Simply deleting an app from your device usually does not erase your personal data.
When starting a sign-up, do not agree to tracking of your data if possible.
Can it snoop on me?
What can be used to sign up?
What data does the company collect?
Personal
Name, email, phone number, date of birth, gender
How does the company use this data?
How can you control your data?
What is the company's known track record of protecting users' data?
In April 2020, 300,000 Nintendo accounts were compromised in a data breach that granted the attackers access to users' personal information, including date of birth and email addresses.

In 2022, Nintendo had to ask users to stop using their Wi-Fi USB Connector due to security concerns.
Child Privacy Information
Can this product be used offline?
User-friendly privacy information?
Nintendo has a privacy policy with fairly easy to read and understand language. Then also provide easy to find links to submit privacy related requests.
Links to privacy information
Dive Deeper
Comments
Got a comment? Let us hear it.