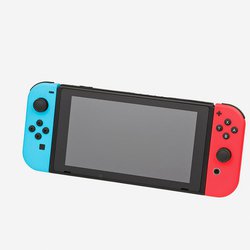 Nintendo Switch
Since we launched *Privacy Not Included back in 2017, the Nintendo Switch has sat at the top of our list of products users find least creepy. Good on Nintendo for doing a great job with privacy. And for featuring sweet games like Animal Crossing: New Horizons, Super Mario, the Legend of Zelda. Good guy Nintendo also puts a lot of emphasis on easy-to-use parental controls. Dear Santa, we've been really good this year.
What could happen if something goes wrong
Nintendo does a pretty good job with privacy, security, and parental controls. They did have a data breach earlier in 2020 where 300,000 accounts were compromised and attackers gained access to users personal information, including date of birth and email addresses. That's not great. Just be aware that while Nintendo doesn't share your data with third parties, some of the games you play on the Switch made by other companies might be collecting and sharing your data. Also. the recent release of the new mixed reality game Mario Kart Live: Home Circuit has raised some privacy concerns. The game uses a real-life car to play and that car drives around your home, mapping it and taking pictures. Privacy watchdog Access Now has called on Nintendo to clearly state what data the game collects and how it will protect the privacy of gamers who play this game. Here is Nintendo's recent reponse to Access Now's privacy concerns: "Nintendo knows that privacy is very important to its customers and takes its responsibility to protect customer information seriously. Mario Kart Live: Home Circuit does not create detailed maps of users' homes, nor does it collect or process information about a user's location, home or surroundings. Any other reports that describe the technology as collecting this or similar information are incorrect."
Privacy
What is required to sign up?
What data does it collect?
Personal
Name, email, phone number, date of birth, gender
How does it use this data?
How can you control your data?
What is the company's known track record for protecting users' data?
In April 2020, Nintendo 300,000 accounts were compromised in a data breach which granted the attackers access to users personal information, including date of birth and email addresses
Can this product be used offline?
User friendly privacy information?
Links to privacy information
Security
Encryption
Uses encryption in transit and at rest.
Manages vulnerabilities
Nintendo has a bug bounty program, which means that anyone who finds a security issue and discloses it responsibly may get paid. https://hackerone.com/nintendo
Artificial Intelligence
Does the AI use your personal data to make decisions about you?
Does the company allow users to see how the AI works?
Company contact info

Phone Number (855) 877-9099
Updates
Comments
Related products