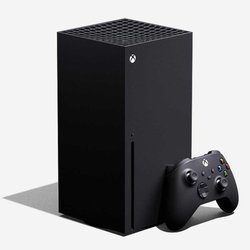 XBox Series X & S
Review date: Nov. 8, 2021
|
|
Microsoft's upgraded, powerful Xbox X series and the smaller, cheaper S series have been around for a year now and they're still hard find in stock most places, If you're lucky enough to have one, that 4K, Ultra HD, up to 120 fps power boost is great for games like Halo Infinite, Forza, Fable, Destiny, and more.
What could happen if something goes wrong?
First off, SET UP TWO-FACTOR AUTHENTICATION! If you don't set up two-factor authentication, someone could hack into your Xbox account and buy a bunch of games at your expense. That could be costly and you don't want that headache.
Microsoft made a change to the privacy policy right before it started selling its new Xbox consoles in 2020. They announced they will no longer collect voice search or speech-to-text data on users. This is good. Especially now that we know Sony will be recording Voice Chats from users with no way to opt out on the PS5 (Sony does this to help combat online abuse, so it's not a terrible thing, just a good thing to be aware of).
Microsoft does not sell your personal data, which is good. Microsoft says they will use your data to target you with ads on Microsoft properties. Microsoft also says they might share your data with partners like Verizon and Facebook to collect data about your online activity for advertising purposes, and to place their own ads. Finally, Microsoft says they can combine data with third parties, such as data brokers. Be aware though, some of the games you play on the Xbox made by other companies might be collecting and sharing your data and their privacy policies would apply to your personal information. So many freakin' privacy policies to just play games.
Tips to protect yourself
Set up two-factor authenticaion on your XBox account immediately
Read XBox's Responsible Gaming guide for safety tips
Go into Profile & system > Settings > Account > Privacy & online safety > Xbox privacy and adjust your privacy settings to your comfort level
Can it snoop on me?
What can be used to sign up?
What data does the company collect?
Personal
Name, email, phone number, address, gamertag
Social
Xbox friends and followers
How does the company use this data?
How can you control your data?
What is the company's known track record of protecting users' data?
Microsoft suffered a major hack that left their Microsoft Exchange email service vulnerable and exploited. That hack didn't affect the privacy of the XBox directly. In December, 2019, 250 million Microsoft internal customer service and support logs were exposed online,
Can this product be used offline?
User-friendly privacy information?
Hard to find Xbox-specific info in the general Microsoft privacy statement.
Links to privacy information
Encryption
Uses encryption in transit and at rest.
Does the product use AI?
The Xbox Series X & S utilizes AI for automatically adjusting the color and contrast of images on the screen.
Is this AI untrustworthy?
What kind of decisions does the AI make about you or for you?
Is the company transparent about how the AI works?
Does the user have control over the AI features?
Dive Deeper
Comments
Got a comment? Let us hear it.