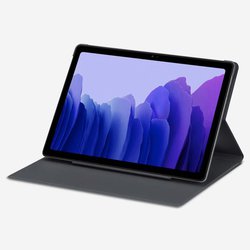 Samsung Galaxy Tablets
You want a tablet but you don't want an iPad. Samsung's Galaxy Android tablets--of which it feels like there are a million versions--are a good option. Use them like an iPad. Use them like a laptop. Use them like a giant phone or little TV. It seems there is an option and price range for everyone. Just beware, Samsung might sell your personal data and nobody wants that.
What could happen if something goes wrong
As with all tablets, it's good to lock them down with a passcode to protect all the data and information you'll keep on them. Otherwise, someone could get in there, access your email, and email your boss terrible things that get you fired. That'd be bad. Something else that may be bad is that Samsung says in their privacy policy they may share or sell your data with others, like commercial data resellers. Taking your personal information and selling it for profit is another way companies make money off you and it's not great.
Privacy
What is required to sign up?
What data does it collect?
Personal
Name, email, phone number, date of birth, gender
Biometric
Voice recordings if you use voice commands
How does it use this data?
How can you control your data?
What is the company's known track record for protecting users' data?
In February, 2020, Samsung had a data breach on it UK customer account pages, effecting less than 150 people.
Can this product be used offline?
User friendly privacy information?
Links to privacy information
Security
Encryption
Uses encryption in transit and at rest.
Manages vulnerabilities
Samsung has a bug bounty program, which means that anyone who finds a security issue and discloses it responsibly may get paid. https://security.samsungmobile.com/rewardsProgram.smsb
Privacy policy
Samsung has a page highlighting it's privacy principles
Artificial Intelligence
Does the AI use your personal data to make decisions about you?
Does the company allow users to see how the AI works?
Company contact info

Phone Number 800-726-7864
Updates
Galaxy users, take note: Samsung's probably selling your data
Relying on Google services, as most of us Android-carrying primates do, comes with a certain tradeoff. It's no big secret or anything: Google makes its money by selling ads, which are more effective when they're catered to our interests — the subjects we tend to search about, the things we buy (when Google knows about 'em, at least), and often even the places we go with our location-enabled phones in tow (and/or in toe, for the monkeys among us).
Comments
Related products