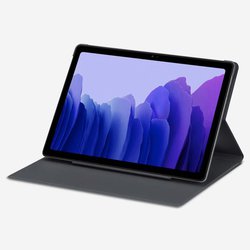 Warning: *privacy not included with this product
Samsung Galaxy Tablets
Review date: Nov. 8, 2021
|
|
You want a tablet but you don't want an iPad. Samsung's Galaxy Android tablets—of which it feels like there are a million versions—are a good option. Use them like an iPad. Use them like a laptop. Use them like a giant phone or little TV. It seems there is an option and price range for everyone.
What could happen if something goes wrong?
Not gonna lie, it sure seems Samsung likes to collect a lot of data on users, share (and possibly sell) that data around lots of places, and make it hard for you to figure out how to opt-out of that data sharing.

Your dogged privacy researcher spent quite a lot of time on Samsung's website trying to understand how to opt-out under their "Do Not Sell" option as part of California's privacy law called CCPA. It was clunky and complicated and she was never quite clear if she succeeded or not. Samsung does extend the rights that protect California users under CCPA to all residents of the United States, which is good. And Samsung users in Europe are protected by their privacy protection law, GDPR, to a degree.

What could go wrong? Well, Samsung likes to show ads tailored to you through various ad networks, and say they do a lot of tracking of your online activities to do so. Samsung could know you like to doodle on your tablet with their S Pen. They assume you're an artist and you start getting ads for art school. You drop out of law school, go to art school, and hey, you end up living happily ever after. OK, that's actually cool. It's also not likely...or is it, in our kinda creepy digital ad economy?
Tips to protect yourself
In the browser of your Samsung Galaxy Tab, you can determine for yourself which information you share while surfing the Internet.
Check Samsung Galaxy privacy controls.
Chose your Android privacy settings.
Can it snoop on me?
What can be used to sign up?
What data does the company collect?
Personal
Name, email, phone number, date of birth, gender
Body related
Voice recordings if you use voice commands
How does the company use this data?
How can you control your data?
What is the company's known track record of protecting users' data?
In February, 2020, Samsung had a data breach on its UK customer account pages, affecting less than 150 people.
Can this product be used offline?
User-friendly privacy information?
Links to privacy information
Encryption
Uses encryption in transit and at rest.
Manages vulnerabilities
Samsung has a bug bounty program, which means that anyone who finds a security issue and discloses it responsibly may get paid.
Privacy policy
Samsung has a page highlighting it's privacy principles
Dive Deeper
Samsung cops to data leak after unsolicited '1/1' Find my Mobile push notification

The Register

Galaxy users, take note: Samsung's probably selling your data

JR Raphael
Comments
Got a comment? Let us hear it.