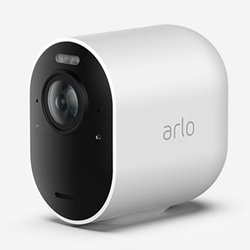 Warning: *privacy not included with this product
Arlo Security Cams
Review date: Nov. 1, 2023
|
|
Arlo security cameras include the standard indoor and outdoor models with HD video, two-way talk, and motion detection. They also sell a video camera that works over cellular data designed to be taken anywhere for mobile surveillance. Which, yeah, sounds kinda creepy. All in all, Arlo's security cams allow for a whole lot of watching, which is what they are designed to do. Their Arlo Secure subscriptions are required to give you things like cloud storage, package detection, and the Plus plan gets you 24/7 emergency response. So, how is Arlo at privacy? Well, we're sad to say, they're just not as good as they used to be.
What could happen if something goes wrong?
Oh Arlo, you do some things so well...and yet, these days we're growing concerned about your privacy practices. Indeed, Arlo used to be one of our favorite security camera companies. They have slipped a little recently...enough to worry us. But, they still do some things we really like to see.

First, the good stuff. We first fell in love with Arlo back on International Privacy Day in 2019 when they proudly proclaimed they will not share or sell or monetize their users' data in any way. It was a bit of a dig at Amazon's Ring--who was in the midst of dealing with a number of public privacy concerns. We'll take some trolling of Ring to get great user privacy protections from Arlo. Arlo also has a very nice page where they lay out clearly how, when, and why they will share data with law enforcement and governments. This is super nice to see because companies like Amazon Ring have such a close relationship with law enforcement and sharing of video it leaves us very concerned. Arlo does much better, clearly stating they will only share your video and personal information with law enforcement through a valid legal process and even then they say they will limit what they share as much as possible. This is what we like to see! Good work Arlo.

Arlo also used to include a 10% of discount code hidden in their privacy policy for people who took the time to read it. We're very sad to see that has disappeared. We're also sad to see that Arlo says they collect information about you from third parties – from public sources as well as marketing and research and service providers. And that they can use all the information they gather about you and combine it and the create inferences about your preferences, behavior, and attitude. Here at *Privacy Not Included we really hate these "inferences" companies create on us with all the data they gather. They feel icky and creepy and we just don't see a need for them. Do better Arlo!

Arlo's privacy policy clearly lays out all the data they collect about you and what they do with it. We appreciate the clarity. Just beware, they do say they can collect some pretty personal information on you like sex, gender expression, or age if you chose to share it as part of your emergency response profile. This is probably OK, just remember, once you share this information, it's out there and you have to trust that it won't ever be hacked or leaked or shared in a way you might not want.

Arlo also says they don't share your personal information with third parties for those third parties to use for their own marketing purposes. This is good. But they do say they can share some of your personal information -- things such as "identifiers such .. IP address and internet/electronic network activity such as website pages visited with advertisers and advertising networks, data analytics providers and social networks" -- with third parties through their use of cookies and tracking technologies. Under certain U.S. state laws, as Arlo says, "these activities may be considered 'sharing' or 'selling.'" Arlo's pledge not to monetize your data came before California's privacy law CCPA came into force with its stricter definition of what that actually means. Good news: You can opt out.

One last thing we should highlight while we're getting into the nitty-gritty (hey, that's what we do) is that Arlo can share aggregated and non-personal information "without restriction." And we have to tell you that privacy researchers warn it has been shown to be pretty easy to re-identify some so-called anonymous data sets. Hopefully Arlo's aggregated and non-personal information doesn't end up being data that can be re-identified.

What's the bottom line with Arlo? Well, we're sad to say they just aren't as good as they used to be -- which seems to be a common theme with so many of the products we review these days. That's a bummer. However, they are still better than some other security camera companies we review like Amazon Ring and Wyze. What's the worst that could happen with your Arlo security camera? Well, we'd hate for them to gather a bunch of data on you and infer that your attitude is ripe for fear and use that to try and sell you a bunch more cameras and video monitoring services that you might not need or be able to afford. That might not be the worst thing that could happen, but we really hate the "inferences" these companies say they can make on us based on their black box algorithms. They give us a bad attitude for sure!
Tips to protect yourself
Use the SD card in case of unstable Internet connection
Consider using a privacy shield on your Arlo camera
Do not sign up with third-party accounts. Better just log in with email and strong password.
Chose a strong password! You may use a password control tool like 1Password, KeePass etc
Use your device privacy controls to limit access to your personal information via app (do not give access to your camera, microphone, images, location unless necessary)
Keep your app regularly updated
Limit ad tracking via your device (eg on iPhone go to Privacy -> Advertising -> Limit ad tracking) and biggest ad networks (for Google, go to Google account and turn off ad personalization)
Request your data be deleted once you stop using the app. Simply deleting an app from your device usually does not erase your personal data.
When starting a sign-up, do not agree to tracking of your data if possible.
Can it snoop on me?
What can be used to sign up?
What data does the company collect?
Personal
Name, postal address, phone number, email address, unique device identifier, and your Internet Protocol (IP) address; sex, gender expression, or age; geolocation data, inferences about your preferences, behavior, and attitude.
Body related
Audio, visual, or similar Information.
How does the company use this data?
How can you control your data?
What is the company's known track record of protecting users' data?
No known incidents in the last 3 years.
Child Privacy Information
Can this product be used offline?
User-friendly privacy information?
Links to privacy information
Strong password
2-step verification is required.
Manages vulnerabilities
Arlo has a bug bounty program, which means that anyone who finds a security issue and discloses it responsibly may get paid.

"Independent security researchers test Arlo products and services in an established program."
Is this AI untrustworthy?
What kind of decisions does the AI make about you or for you?
Arlo security cameras alert you when important motion is detected and filter out everyday movement. With the Arlo Person Detection feature, you receive real-time alerts when people approach your home.
Is the company transparent about how the AI works?
Does the user have control over the AI features?
Dive Deeper
Comments
Got a comment? Let us hear it.