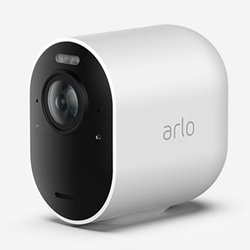 Arlo Security Cams
Arlo security cameras include the standard indoor and outdoor models with HD video, two-way talk, and motion detection. They also sell a video camera that works over cellular data designed to be taken anywhere for mobile surveillance. That sounds kinda creepy. Arlo also makes a cute little rabbit-shaped baby camera with advanced night vision, a multi-colored nightlight, and air sensors and bills it as a "super nanny." All in all, Arlo's security cams allow for a whole lot of watching, which is what they are designed to do. We like that they have a "Privacy Pledge" on their website where they commit to keeping all this video you capture safe, secure, and private.
What could happen if something goes wrong
We kinda love Arlo for a few reasons. First off, on International Privacy Day in 2019 they proudly proclaimed they will not share or sell or monetize their users' data in any way. It was a bit of dig at Ring--who was in the midst of dealing with a number of public privacy concerns. We'll take some trolling of Ring to get great user privacy protections from Arlo. Another thing we kinda love about Arlo is they hid a secret discount code for their products in their privacy policy. It literally pays to read their privacy policy! All in all, these security cams seem pretty good to us. They do use AI that has advanced object detection meaning it can detect people, packages, animals, vehicles, and alarms. Probably nothing could go wrong there, but if it did happen to mix up detecting a police officer for your dog, that could get a little awkward.
Privacy
What is required to sign up?
What data does it collect?
Personal
Name, email, phone number, address
How does it use this data?
How can you control your data?
What is the company's known track record for protecting users' data?
No known incidents in the last 2 years.
Can this product be used offline?
User friendly privacy information?
Links to privacy information
Security
Strong password
2-step verification will be required for all logins by the end of 2020.
Manages vulnerabilities
Arlo has a bug bounty program, which means that anyone who finds a security issue and discloses it responsibly may get paid. https://bugcrowd.com/arlo
Privacy policy
Arlo has a privacy pledge in addition to the legal privacy policy.
Artificial Intelligence
Does the AI use your personal data to make decisions about you?
Does the company allow users to see how the AI works?
Arlo has advanced object detection: It can detect people, packages, animals, vehicles, and alarms.
Company contact info

Phone Number (408) 638 3750

Email No
Updates
What are the Arlo Smart advanced object detection features?
With an Arlo Smart subscription, you can stay alert to what's happening at home with A.I. enabled notifications for people, packages, vehicles, animals, and smoke/CO alarms. Read this article to learn more about Arlo Smart's advanced object detection features.
Comments
Related products