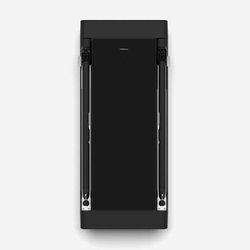 Warning: *privacy not included with this product
Tonal
Review date: Nov. 8, 2021
|
|
Tonal is a gym, a trainer, and a coach all rolled into one rather expensive, compact machine that fits on your wall. It has adjustable arms with cables where weights can be adjusted to up to 200 pounds for all manner of lifting and squatting and curling exercises. There's a built-in video screen where coaches guide you through strength, cardio, and yoga exercises. And it says it uses built-in artificial intelligence to learn your strength and adjust your workouts accordingly, based on your goals. Not gonna lie, Tonal sounds like the gym of the future. Especially if the future includes more global pandemics.
What could happen if something goes wrong?
While Tonal says they haven't sold your personal information, they do say they can share the heck out of it. And they collect a lot of personal information — everything from name, location, gender, images and videos you might upload, information from your social media accounts if you connect them, and even any inferences they make about you based on all that personal information. They say they share that personal information with a number of third parties for things such as targeting you with ads and to "allow third parties to offer or provide you goods and services through the Equipment."

This sort of large data collection and sharing is, unfortunately, not super unusual in the home workout equipment world. But it does stink that when you want to work out in the privacy of your own home, your workout isn't really private. Being targeted with ads as you get your burn on, yeah, that's probably not good for your body or your brain.
Tips to protect yourself
Set up Screen Lock on your Tonal machine to protect you from others accessing your machine and accounts.
Be very careful what third-party companies you consent to share your health data with. If you do decide to share your health data with another company, read their privacy policy to see how they protect, secure, and share or sell your data.
Can it snoop on me?
What can be used to sign up?
What data does the company collect?
Personal
Name, email, phone number, address, date of birth, gender
How does the company use this data?
How can you control your data?
What is the company's known track record of protecting users' data?
No known incidents in the last 3 years.
Can this product be used offline?
User-friendly privacy information?
Links to privacy information
Is this AI untrustworthy?
What kind of decisions does the AI make about you or for you?
Tonal's full-body strength assessment sets the foundation for your strength training goals. From there, Tonal automatically sets the optimal weight for every movement so you'll get the most out of every rep.
Is the company transparent about how the AI works?
Does the user have control over the AI features?
Dive Deeper
Comments
Got a comment? Let us hear it.