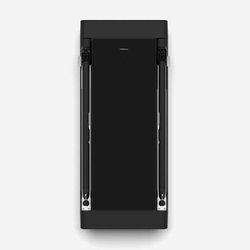 Warning: *privacy not included with this product
Tonal
Tonal seems to be a gym, a trainer, and a coach all rolled into one rather expensive, compact machine that fits on your wall. It has adjustable arms with cables where weights can be adjusted to up to 200 pounds for all manner of lifting and squatting and curling exercises. There's a built-in video screen where coaches will guide you through strength, cardio, and yoga exercises. And it claims to have built-in artificial intelligence where it learns your strength and based on your goals will adjust your workouts accordingly. Not gonna lie, Tonal sounds like the gym of the future. Especially if the future includes more global pandemics.
What could happen if something goes wrong
We really like that while Tonal uses your personal information to customize your workout they do not sell your personal information to third parties. That's a good thing. Unfortunately we couldn't determine if this product mets our Minimum Security Standards because the company didn't respond to us. So we don't know what measures they take to protect their users. Not knowing that, we have to warn this product could come with *Privacy Not Included. And since this home gym has a camera that watches you as you sweat and grunt and wheeze, we sure hope they take measures to secure that so video of you sweating and grunting and wheezing doesn't end up on YouTube.
Privacy
What is required to sign up?
What data does it collect?
Personal
Name, email, phone number, address, date of birth, gender
How does it use this data?
How can you control your data?
What is the company's known track record for protecting users' data?
No known incidents in the last 2 years.
Can this product be used offline?
User friendly privacy information?
Links to privacy information
Artificial Intelligence
Does the AI use your personal data to make decisions about you?
Does the company allow users to see how the AI works?
Tonal tracks your movement and progress and other data to adjust your workouts. https://www.tonal.com/intelligence/
Comments
Related products