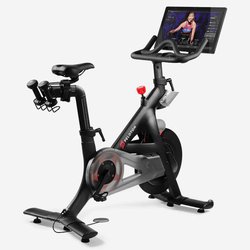 Peloton Bike
Getting out to exercise in 2020 hasn't been easy. Which has made Peloton's connected exercise bike a must have for those who can afford the $2,000 price tag. The networked bike comes with a 20+ inch touchscreen display which streams thousands of live or on-demand workouts. The Peloton app tracks your every drop of sweat to make sure you're burning enough calories for that creepy boyfriend (yeah Peloton, we haven't forgotten your creepy boyfriend ad last year!). We do like that Peloton took quick action to shut down the spread of Qanon conspiracy theories from their forums and leaderboards. We don't like that they had to.
What could happen if something goes wrong
It doesn't seem like there's too much that could go wrong while you're sweating away on your Peloton. Good on Peloton for not selling your personal data. And good on Peloton for working hard to remove extremist Qanon content from its forums and leaderboards. It's crazy to us that they have to, but such is the world these days. What's the worst that could happen? We suppose your roommate could access your Peloton, pretend they are you, and hurt your leaderboard status. Or maybe help your leaderboard status!
Privacy
What is required to sign up?
What data does it collect?
Personal
Name, email, phone number, address, age, gender
How does it use this data?
How can you control your data?
What is the company's known track record for protecting users' data?
Peloton had a security malfunction in August 2020 that caused the cameras to transmit a 24 hr livestream instead the studios, viewable on web browsers.
Can this product be used offline?
User friendly privacy information?
Links to privacy information
Security
Manages vulnerabilities
Peloton encourages responsible security vulerability reporting. https://support.onepeloton.com/hc/en-us/articles/360024551291-Security-Compliance
Privacy policy
The privacy policy mentioned explicitly that it does not apply to personal information of Peloton employees.
Artificial Intelligence
Does the AI use your personal data to make decisions about you?
Does the company allow users to see how the AI works?
Peloton is hiring a VP for AI and Computer Vision, so something AI based will be coming. https://ai-jobs.net/job/1831-vice-president-artificial-intelligence-and-computer-vision/
Company contact info

Phone Number 1⁠-⁠866⁠-⁠679⁠-⁠9129
Updates
Peloton is figuring out how to moderate extremist content
Peloton, the networked fitness-bike seller, has found itself in the position of having to scour its forums and leaderboards to remove hateful speech. The bottom line: It highlights how toxic the social media environment is in 2020. If it's online and social, it's probably going to require moderation.
We read Peloton's privacy policy for you – here's what you need to know
Exercise and fitness aren't just fads anymore. The fitness industry has grown to gargantuan proportions, with companies like Equinox raking in millions of dollars every quarter. And in the tech sphere, sales of wearable fitness trackers are skyrocketing. But one fitness brand in particular has gone viral in a way nobody expected. Peloton, creators of the massively popular internet-connected fitness bikes, has come under fire for a 30 second advertisement that hints at a disturbing domestic relationship.
Peloton Studio Security Breach
Peloton studio security breach! Last week a security breach was detected on Peloton's streaming platform. The malfunction caused the cameras to transmit a 24hr livestream of inside the studios. This stream appears to have been available only on web-browsers, and not on Peloton devices.
Comments
Related products