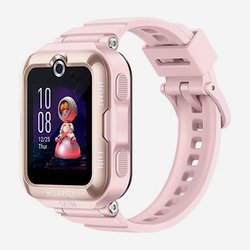 Warning: *privacy not included with this product
Huawei Watch Kids 4 Pro
Review date: Nov. 9, 2022
|
|
Want to track your kids everywhere in every way? I mean, really track them? This kids-focused smartwatch is for you. Call your kids with either voice or HD video right from their wrist, track them anywhere with what Huawei calls, "9-system AI positioning," get notifications if you kid leaves a "safe area" you set up, even track how many hours your kid spends outside in the sun. So much tracking. There's also activity tracking, flashing lights to make your kids more visible in the dark, and even a feature that lets your kid shake their wrist when around another kid with this watch to add them as a friend. Lots and lots of features, some of them kinda creepy, some of them kinda fun. The big question is, should you trust your kid's information with Chinese-owned Huawei? Well, privacy isn't exactly what Huawei's is known for.
What could happen if something goes wrong?
Uhg, this smart watch for kids does not seem good for privacy at all. It currently receives all the privacy dings we can give it -- for how they use your data, for how you can control (or not) your data, and for their bad track record at protecting and respecting their users' privacy.

Huawei's privacy policy says they can collect a whole lot of data on their users, including data from third party sources they describe as "public or legitimate commercial sources." This means they can collect data on you from social media accounts, or potentially even data brokers. That's on top of all this device can collect such as name, email address, mobile number, location, contacts, body-related information and more. Add to that the body-related data it can also collect like activity and sleep and, yeah, it's collecting a lot of data.

And when it comes to protecting all that child personal information, well, Huawei does have a rather hard-to-read children's privacy protection statement that any parent who buys this smartwatch for their kid should take a look at. In fact, the privacy statement even says, "Children must ask their guardians to carefully read this Statement and seek permission or guidance from their guardians before using our products or services or providing information to us," which is some next-level pushing the responsibility for privacy off on the consumer from the company if you ask us.

If you do read that statement, you'll see that Huawei says that child accounts are required for children under 14 (or the legal privacy age in your country) and that they have a "child mode" for kids accounts. The good news is, Huawei promises to "automatically disable personalized ads and direct marketing features and provide content that is appropriate for children when use by a child is detected." And, they require two-factor authentication to help protect your kids' data. The bad news is, they also say "we may also collect and use other personal information of the child" for purposes outlined in their privacy policy. Those purposes are pretty broad, as is potentially their sharing among their business affiliates, partners, third party service providers, and even public or government authorities.

Another thing to note, especially for consumers in the US and some European countries. Huawei's 5G technology is blocked in the US, as the company is labeled a national security threat in the country. Many other countries have issued bans on some of Huawei's technology too. What does that mean for Huawei's smart watches that are still popular in Europe and elsewhere around the world? For us, it raises some serious privacy questions.

And while China has recently put in place a sweeping new privacy protection law, there are questions about how much access the Chinese government has to personal information collected and stored within China. All in all, it seems to us there are safer options for smart watches for kids when it comes to protecting your privacy and security. What's the worst that could happen with a 9-point AI location tracking, HD-video capturing, microphone included smart watch designed for kids ages 4 and up? Well, here's hoping that front-facing camera on the watch is never compromised because having your kid spied on by a very bad person is about as creepy as it gets.

One final consideration. This device tracks the location, activity, and has a camera and microphone built-in. Parents should ask themselves, is the information this smartwatch for kids collects something I want gathered and potentially accessible to others if there were a data leak or security vulnerability? Also, we think there is a good question to be raised about teaching young children that this level of digital surveillance in their lives is OK. Maybe we should track kids a little bit less, and teach them constant surveillance isn't a good thing?

Tips to protect yourself
Parents, keep a sharp eye on parent controls and permissions.
Be very careful what third party companies you consent to share you health data with. If you do decided to share your health data with another company, read their privacy policy to see how they protect, secure, and share or sell your data.
Do not sign up with third-party accounts. Better just log in with email and strong password.
Chose a strong password! You may use a password control tool like 1Password, KeePass etc
Use your device privacy controls to limit access to your personal information via app (do not give access to your camera, microphone, images, location unless neccessary)
Keep your app regularly updated
Limit ad tracking via your device (eg on iPhone go to Privacy -> Advertising -> Limit ad tracking) and biggest ad networks (for Google, go to Google account and turn off ad personalization)
Request your data be deleted once you stop using the app. Simply deleting an app from your device usually does not erase your personal data.
When starting a sign-up, do not agree to tracking of your data if possible.
Can it snoop on me?
What can be used to sign up?
What data does the company collect?
Personal
Child's date of birth, HUAWEI ID (mobile number/email address), nickname
Body related
We could find no mention of what body-related data this smartwatch collects in Huawei's privacy policy.
How does the company use this data?
How can you control your data?
What is the company's known track record of protecting users' data?
In January 2020, Huawei reported a vulnerability regarding encryption of its phones.

There are also several reports of Huawei participating in development of technologies for violation of human rights. In 2020, it was reported that Huawei developed AI software used to suppress Uighur minorities in China. In 2019, the company was linked to building wireless networks in North Korea.

Huawei is labeled a national security threat by the United States.
Child Privacy Information
Can this product be used offline?
With very limited functionality
User-friendly privacy information?
Very hard-to-read policies
Links to privacy information
Does the product use AI?
"The built-in 9-System AI Positioning1 in HUAWEI WATCH KIDS 4 Pro lets you see where they are fast, with pin-point accuracy. The service supports GPS, Beidou, GLONASS, A-GPS,WLAN positioning, base station positioning, roaming positioning, accelerometer-assisted positioning, and SOS camera assisted positioning. And when you go travelling it's got you covered, thanks to roaming support."
Is this AI untrustworthy?
What kind of decisions does the AI make about you or for you?
Spotting where you child is located.
Is the company transparent about how the AI works?
Does the user have control over the AI features?
Dive Deeper
Comments
Got a comment? Let us hear it.