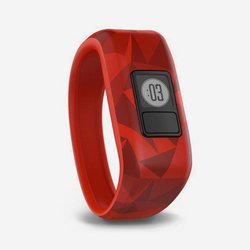 Vivofit Jr 2
An activity tracker designed for kids. What could go wrong? These wearables for kids ages 4-7 come in cool designs from Star Wars, Disney's Frozen, to Spiderman and more. They sure sound fun. That is, until kids learn parents can track not just steps, movement, and sleep but also CHORES! Garmin's Vivofit Jr 2 connects to an app via Bluetooth. The app lets parents track whether or not kids have done their chores, if they've moved for 60 minutes a day, if they actually went to sleep when they were supposed to and dole out rewards if they have. Now Mom and Dad can be Big Brother too!
What could happen if something goes wrong
Garmin has a good track record of how they handle users' personal information. And this fitness tracker for kids does come with parental controls. However, the device tracks the activity and sleep of a child. Parents should ask themselves, "Is this information I want gathered and potentially accessible to others about my child?" Also, there is a good question to be raised about teaching young children that this level of digital surveillance in their lives is OK.
Privacy
What is required to sign up?
What data does it collect?
Personal
Name, email address, gender (optional), age (optional), date of birth (optional), photos (optional)
Biometric
Tracks steps, active minutes, and hours of sleep.
Social
You can add friends to see their activity data as a part of a challenge. You can add a 2nd parent or guardian.
How can you control your data?
What is the company's known track record for protecting users' data?
Garmin was subject to a ransomeware attack that took it offline for 3 days in July of 2020. No customer data was compromised.
Can this product be used offline?
User friendly privacy information?
Links to privacy information
Security
Encryption
Uses encryption in transit and at rest. All Garmin wearable devices run over a secure Bluetooth connection from a mobile app.
Strong password
Wearable devices run over a secure Bluetooth connection from an app on your phone or tablet. In order to use the app, an account with a strong password is required.
Security updates
Updates are pushed automatically when you pair your device with the companion app.
Manages vulnerabilities
Garmin doesn't have an official bug bounty program, but it invites responsible disclosure of security vulnerabilities.
Privacy policy
Garmin has a Vivofit Jr specific privacy page.
Artificial Intelligence
Does the AI use your personal data to make decisions about you?
Does the company allow users to see how the AI works?
Updates
Ransomware attack on Garmin thought to be the work of 'Evil Corp'
A ransomware attack that took the GPS and smartwatch business Garmin entirely offline for more than three days is believed to have been carried out by a Russian cybercriminal gang which calls itself "Evil Corp". Garmin began to restore services to customers on Monday morning, after being held hostage for a reported ransom of $10m, although some services were still operating with limited functionality.
Is the clock ticking on kids smartwatches?
Kids smartwatches don't have the best reputation. The German telecommunications regulator, Federal Network Agency, banned the sale of smartwatches aimed at children and urged parents to destroy the devices, describing them as spying tools.
Comments
Related products