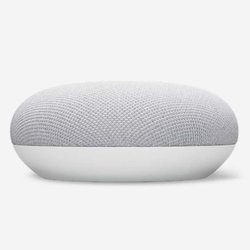 Google Nest Mini
"Hey Google!" will become your new favorite greeting. Hey Google, turn on the lights. Hey Google, play Bohemian Rhapsody. Hey Google, what are the symptoms of toe fungus? Hey Google, are you still listening to me? With three built in microphones, it just could be. This little smart speaker (smart microphone?) is fun and useful...and maybe just a bit creepy? Tell us on the Creep-O-Meter below!
What could happen if something goes wrong
Google seems to do a better job than some of the other Big Tech companies when it comes to privacy (looking at you Facebook). We like that users are now automatically opted out of Google's human review of voice recordings. However, Google does collect a ton of data on you, especially if you don't take the time to adjust your privacy setting to lock down just how much info they can gather. We recognize it is time consuming to have to go in and adjust setting in apps and on your phone and on your computer to protect your privacy. If you don't take the time, it's possible Google can get to know you really well, maybe too well. Maybe they recognize you from all the times you ordered plain cheese pizza. They know you are single because who orders plain cheese pizza? Just kidding, they know you're single because of all those pedicure appointments you've booked for one. Maybe it's OK Google knows you so well. Maybe it's creepy.
Privacy
What is required to sign up?
What data does it collect?
Personal
Name, email, phone number
How can you control your data?
What is the company's known track record for protecting users' data?
In 2018, personal information was exposed in several incidents, resulting from access by app developers, exposure by mobile apps, or a bug in Google + API. Google has also stored location data without permission
Can this product be used offline?
User friendly privacy information?
Links to privacy information
Security
Encryption
Uses encryption in transit and at rest.
Manages vulnerabilities
Google has a Security Rewards program, which means that anyone who finds a security issue and discloses it responsibly may get paid. https://www.google.com/about/appsecurity/programs-home/
Privacy policy
All things Nest have been moved over to the Google Store. Google has a page detailing their privacy principles for Nest products.
Artificial Intelligence
Does the AI use your personal data to make decisions about you?
Does the company allow users to see how the AI works?
Google publishes academic papers about its AI research (https://ai.google/) and makes several tools available via open source. https://ai.google/tools/
Updates
Comments
Related products