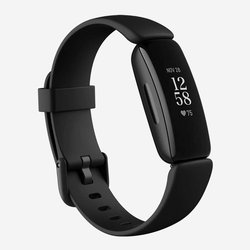 Fitbit Inspire 2
If you want a little tracking--activity, heart rate, sleep--without the extra bells and whistles, this little bracelet could be for you. Just think, in the year 1820, the word tracker meant someone who was good at finding and following animals (or people). Now, in the year 2020, tracker means technology we strap to ourselves to tell us how many steps we've taken a day. Bet they never saw that coming back in 1820.
What could happen if something goes wrong
Fitbit seems to do a good job with privacy and security. It de-identifies the data it collects so it's (hopefully) not personally identifiable. We say hopefully because, depending on the kind of data, it's been found to be pretty easy to de-anonymize these data sets and track down an individual's patterns, especially with location data. So, just be aware with Fitbit--or any fitness tracker--you are strapping on a device that tracks your location, heart rate, sleep patterns, and more. That's a lot of personal information gathered in one place. One more consideration. Google is in the process of buying Fitbit. What does that mean? We don't know quite yet, but it does seem that all that sensitive data Fitbit collects may soon be owned by Google, a company that likes to have as much data on people as possible.
Privacy
What is required to sign up?
What data does it collect?
Personal
Name, date of birth, gender, height, weight, photo (optional)
Biometric
Heart rate, movement, sleep data, menstrual cycle, and more
How does it use this data?
How can you control your data?
What is the company's known track record for protecting users' data?
No known incidents in the last 2 years.
Can this product be used offline?
User friendly privacy information?
Links to privacy information
Security
Encryption
Fitbit protects data sent between your device and the Fitbit app with strong encryption.
Strong password
Fitbit devices work by being paired to a Fitbit account via the Fitbit mobile application. To create a Fitbit account, users are required to provide strong, complex, passwords during onboarding.
Security updates
Updates are pushed automatically when you pair your device with the app.
Manages vulnerabilities
Fitbit has a bug bounty program, which means that anyone who finds a security issue and discloses it responsibly may get paid.
Privacy policy
Fitbit's privacy information is written in fairly simple language. Google is also working on acquiring Fitbit, with the deal pending the decision of EU antitrust regulators at the end of 2020.
Updates
How to Lock Down Your Health and Fitness Data
Whether you're a Fitbit user worried about Google's recent $2.1 billion purchase of the company or just generally privacy conscious, you should pay attention to where your health and fitness data goes and who has access. It's among the most sensitive data you have. While you unfortunately can't control where all of your health information goes—as a Google partnership with Ascension, the nation's second-largest health system, has proved—you can still dedicate a few minutes to a health data audit, making sure your calorie burns and step counts are completely private. Or, if not, that they're shared only by choice.
We read your wearable tech's privacy policy so you don't have to
What you agreed to - GDPR edition. Below, you'll find a quick intro on who fairs best in this new world of privacy policy. You'll then find break downs of a select number of company terms and services and privacy policies - complete with highlights and links for your perusal.
Comments
Related products