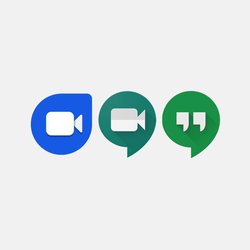 Duo | Hangouts | Meet
Google Duo, Google Hangouts, Google Meet. The various options can be confusing - here's the breakdown: Google Duo is a simple video call app for up to 12 participants. Google Hangouts allows for video calls up to 25 participants, as well as phone calls and text chats. Google Meet is their business-grade video conferencing option, for up to 100 participants, built into the paid version of G Suite. There you have it.
What could happen if something goes wrong
Google Duo is end-to-end encrypted, which is good. Hangouts and Meet aren't but still use encryption. Google is a big company that does a good job on security, so your video calls will most likely be pretty secure. Many people are already using Google products and like the ease of use that offers. Others may be excited to use products that offer similar features but have been developed by open source or newer companies.
Privacy
What is required to sign up?
Users sign in with an email. It does not have to be a gmail address.
What data does it collect?
How does it use this data?
How are your recordings handled?
Alerts when calls are being recorded?
People are notified when the recording starts or stops, but cannot control the recording.
Does the platform say it is compliant with US medical privacy laws?
Google video call apps are not compliant by default. Google video call apps can be HIPAA compliant. Please check with your healthcare provider to make sure their Google video service meets all the requirements.
Links to privacy information
Can I control it?
Is it easy to learn and use the features?
Google Duo is a simple app that only does video call and is easy to learn. Hangouts has a bit more to it, but still seems easy to grasp for an average users. For Google Meet, the feature set is somewhat limited compared to the other business-targeted apps in this guide, but the platform is intended for ease of use. Users can join calls directly in the browser or with an app. Their support articles are easily accessible and laid out in a logical fashion.
Security
Encryption
Google uses encryption on all three of its video chat apps. Google Duo is the only one of the three apps that claims to use end-to-end encryption.
Strong password
Both Hangouts and Meet require a strong password to login. Duo does not require a password as it is a simple calling app. Users can and should passcode protect their phone to keep unwanted people from making calls.
Security updates
Google updates these apps around three times a year, primarily to address compatibility issues and minor bug fixes.
Manages vulnerabilities
Google has a bug bounty program for security vulnerabilities
Privacy policy
https://policies.google.com/
Updates
Comments
Related products