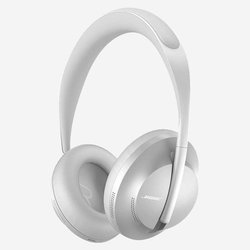 Bose 700 Headphones
Review date: Nov. 8, 2021
|
|
Bose makes some nice headphones, if you can afford them. These noise cancelling headphones also offer stellar microphones to pick up your voice on calls in your office or in the world. You can also ask Alexa a question with a wake word or get Google Assistant or Siri involved too. And one tap gets you into your favorite Spotify playlist. All this through a Bluetooth connection to your phone. Fancy, pricey, and hopefully not too likely to invade your privacy (although Amazon and Spotify will collect data on those requests you make or songs you play).
What could happen if something goes wrong?
A few years back Bose came under fire when it was alleged they were secretly collecting personal information about users through the Bose app. Bose fought the class action lawsuit based on these allegations. And early in 2021, Bose made a good change when they stopped requiring users to create an account to use the Bose Music app that controls their headphones and speakers. Yay for progress!

Bose does say it may use or share de-identified personal data for any purpose they choose, without limitation. This use of anonymized data is generally OK, although many privacy researchers will point out it is relatively easy to de-anonymize such data. Also, if you choose to use Amazon Alexa or Google Assistant with this smart speaker, know that Google and Amazon will collect data on the voice requests you make. What's the worst that could happen with these fancy headphones? Well, hopefully not too much, we hope.
Tips to protect yourself
If you use Alexa or Google Assistant, set up the respective privacy settings.
Consider using your headphones without connecting it to an app. This way, you may decrease amount of data collected
Can it snoop on me?
What can be used to sign up?
What data does the company collect?
Personal
Contact information, location (if you wish to turn on some features e.g. enabling you to locate a lost or stolen product, providing access to local radio stations)
How does the company use this data?
How can you control your data?
What is the company's known track record of protecting users' data?
Bose suffered a ransomware attack in March 2021, it leaked employee and financial data, but no consumer-related data.
Can this product be used offline?
User-friendly privacy information?
The privacy policy is detailed on all aspects we are interested in
Links to privacy information
Encryption
Uses encryption in transit and at rest.
Is this AI untrustworthy?
What kind of decisions does the AI make about you or for you?
You can connect the headphones to Alexa or Google Assistant, if you wish, for voice recognition.
Is the company transparent about how the AI works?
Does the user have control over the AI features?
Dive Deeper
Comments
Got a comment? Let us hear it.