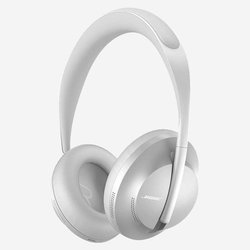 Bose 700 Wireless Headphones
Welcome to the world of "audio AR." What is audio AR, you ask? According to Bose it's "helping you stay connected to your digital world and stay engaged in the physical world at the same time." OK, but how you ask? Welp, Bose says, "Bose AR-enabled products have motion sensors embedded inside that can detect your head orientation and body movement while you wear them. Bose AR-enhanced apps can then use this information along with location data from your mobile device to offer you audio content tailored to where you are and what you're doing." Yeah, that sounds kinda creepy? Or maybe not?
What could happen if something goes wrong
A few years back Bose came under fire when it was alleged they were secretly collecting personal information about users through the Bose app. Bose currently is fighting a class action lawsuit based on this allegation. Bose does say it may use or share anonymized personal data for marketing purposes. This is generally OK, although many privacy researchers will point out it is relatively easy to de-anonymize such data. Also, if you choose to use Amazon Alexa or Google Assistant with these headphones, know too that Google and Amazon are also collecting your data.
Privacy
What is required to sign up?
What data does it collect?
Biometric
Voice recordings (collected by Amazon or Google, depending on if you use a virtual assistant)
How does it use this data?
What is the company's known track record for protecting users' data?
No known incidents in the last 2 years.
Can this product be used offline?
User friendly privacy information?
Links to privacy information
Security
Encryption
Uses encryption for the Bluetooth.
Strong password
The device pairs securely via Bluetooth, which does not require a password.
Manages vulnerabilities
Bose has a Product Security Vulnerability Response (PSVR) program to allow people to report security concerns in a responsible manner. https://global.bose.com/en_us/product_security_vulnerability_response.html
Artificial Intelligence
Does the AI use your personal data to make decisions about you?
Does the company allow users to see how the AI works?
Company contact info

Phone Number (800) 379-2073

Live Chat No
Updates
Comments
Related products