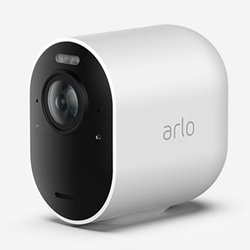 Arlo Security Cams
Review date: Nov. 8, 2021
|
|
Arlo security cameras include the standard indoor and outdoor models with HD video, two-way talk, and motion detection. And recently they added an indoor security cam with what they call "privacy shield" wihich is an automated features that covers the camera when you tell it to. They also sell a video camera that works over cellular data designed to be taken anywhere for mobile surveillance. Which, yeah, sounds kinda creepy. All in all, Arlo's security cams allow for a whole lot of watching, which is what they are designed to do. Their Arlo Secure subscriptions are required to give you things like cloud storage, theft protection, and the Plus plan gets you 24/7 emergency response.
What could happen if something goes wrong?
We kinda love Arlo for a few reasons. First off, on International Privacy Day in 2019 they proudly proclaimed they will not share or sell or monetize their users' data in any way. It was a bit of a dig at Amazon's Ring--who was in the midst of dealing with a number of public privacy concerns. We'll take some trolling of Ring to get great user privacy protections from Arlo. Another thing we kinda love about Arlo is they are honest about privacy on the internet. We wish more companies had this sort of honesty in their privacy policy, "While we use reasonable and appropriate security measures, the Internet is not 100% secure. We cannot promise that your use of our sites will be completely safe. We encourage you to use caution when using the Internet." Yes! We also encourage you to always use caution when using the internet.

While Arlo does seem to take your privacy seriously, and hopefully they do as much work behind the scenes as they do with their PR around that, these are still video cams that record video to the Cloud on the internet, so be careful. Arlo does collect a bit of your personal information — standard things like name, email, and product usage data. This is of no great concern to us. They do say that if you access your Arlo account with a Facebook login, they might collect more personal information. Facebook also might collect more personal information on you too. Please don't access your accounts with your Facebook login people, it's just not a smart privacy decision.
Tips to protect yourself
Use the SD card in case of unstable Internet connection
Consider using a privacy shield on your Arlo camera
Can it snoop on me?
What can be used to sign up?
What data does the company collect?
Personal
Name, email, phone number, address
How does the company use this data?
How can you control your data?
What is the company's known track record of protecting users' data?
No known incidents in the last 3 years.
Can this product be used offline?
User-friendly privacy information?
Arlo has a privacy pledge in addition to the legal privacy policy.
Links to privacy information
Strong password
2-step verification is required.
Manages vulnerabilities
Arlo has a bug bounty program, which means that anyone who finds a security issue and discloses it responsibly may get paid. https://bugcrowd.com/arlo
Is this AI untrustworthy?
What kind of decisions does the AI make about you or for you?
Arlo security cameras alert you when important motion is detected and filter out everyday movement. With the Arlo Person Detection feature, you receive real-time alerts when people approach your home.
Is the company transparent about how the AI works?
Does the user have control over the AI features?
Dive Deeper
Arlo Essential Indoor Security Camera Review: When privacy is a priority

Digital Trends

Arlo takes dig at Ring on International Data Privacy Day

Rik Henderson

What are the Arlo Smart advanced object detection features?

Arlo
Comments
Got a comment? Let us hear it.