As my six year old climbed over my shoulders, my colleagues erupted into smiles and laughter. A game of tag had begun during our weekly MozFest team meeting and my son decided the best route towards escape was directly behind my location on the couch. I was muted, so a couple of people managed to miss the fast-footed child, but most did not. It made for a good laugh, a minute or two of interruption in the agenda, and then things went back to "normal."
Hi, I'm Kristina, MozFest Communications Manager and this is my life as a work-from-home parent.
Thankfully, Mozilla is an incredibly family-friendly place to work. My colleagues know all about my children's latest obsessions and current snack requests. They pop in to say hi and show off their latest creation or new toy to whoever happens to be on my screen. Everyone is understanding and welcoming of their cute little faces during my meetings. But that doesn't mean it's easy for me.
Often, my mic is muted while (very loud) chaos is erupting in the background. Arguments about who's not sharing with whom or pleading requests to "PLEASE get my a snack right now or I might starve to death" are just out of the screen's view. It's not easy to juggle work while parenting at the same time. And I know I am not the only one to face this challenge during the pandemic. Whether you have babies, toddlers, or school-aged kids, it's a reality we're all facing together. But the work continues and we find ways to make the best of it.
Even though we are physically separated from each other, we are not alone in parenting and working from home. I'm excited about the ways we can support one another so that we can all feel welcome and comfortable attending our very first virtual festival happening in March 2021.
Mozilla Festival's Commitment to Families
The MozFest team is excited, and a bit nervous, about a virtual format. We've never done this before and are learning as we go - looking towards our friends and allies whose event timing came before. But as a festival, we want to be very clear on one thing that no one should feel nervous about: attending the festival as a parent with children around.
MozFest is a place of community and all ages are welcome to attend! After all, they are the next generation to lead our physical and digital world. What better way to invite them into the internet health community than through attending MozFest? We're making the festival family friendly in a variety of ways:
We are recording sessions so that anyone can watch on their own time when life gets in the way of attending live.
On-demand resources and festival content will be available to fit into your schedule and digest at your own pace.
All of our Facilitators will be trained on how to support participant needs and will learn how to manage the conversation should distractions arise (we know they will!)
Every year, MozFest hosts a Youth Zone, which is a schedule specifically curated for school-aged children and those young at heart.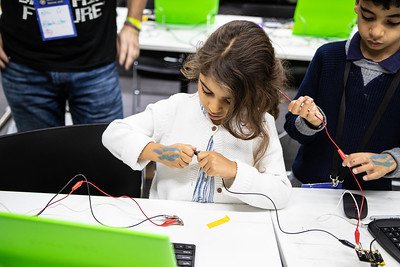 When it comes to parenting, we know it's not feasible to block off an entire day to attend the festival's activities. But there are a few things we can do to help you feel comfortable jumping in and attending when you can:
If there is noise in the background, it should not hinder your participation - we still want to hear from you! Your voice and input is incredibly valuable to our community and the internet health movement.
If you have to step away to take care of parenting duties, we encourage you to jump back in when you're able. Interruptions are OK. MozFest is grounded in the real world.
We are committed to providing families with a list of resources (available virtually) to keep little hands busy while they attend sessions. Some ideas that we have in the works include:

MozFest activity book - available to print at home
On-your-own art, builder, and writing challenges
Reading list for kids, separated into age appropriate-levels
What ideas do you have to make it easier for yourself and other families to attend MozFest? We'd love to hear your thoughts in our #mozfest-families slack channel! This channel is a way to not only provide feedback, but to connect with other families from around the world who are part of the Mozilla Festival community.
If you aren't a part of our slack community yet, join here.
So parents, will you join me at MozFest? I'll be the one (of many, I hope!) with kids sitting on my lap and jumping in and out of the schedule as my parenting duties require.
Kristina Gorr serves the internet health movement as Communications Manager for MozFest through using her passion for writing to raise awareness and uplift opportunities for others to get involved in critical conversations about web literacy, digital inclusion, privacy and security, and openness, to name a few. Her littles ones are always around, so be sure to say hi when they pop on the screen. Learn more about Kristina on Mozilla Pulse.
MozFest is part art, tech and society convening, part maker festival, and the premiere gathering for activists in diverse global movements fighting for a more humane digital world. To learn more, visit www.mozillafestival.org.
Sign up for the MozFest newsletter here to stay up to date on the latest festival and internet health movement news.