MozFest – the world's premiere gathering for activists fighting for a more humane digital world – focuses on bias, transparency, movement building, and data stewardship. At Mozilla, we recognize the collective power we wield when we come together for good. MozFest is our chance to unite and move the needle towards the positive change we want to see in the world, both on and offline. We need everyone, including you, to take part if we are to realise our full potential.
Here are just a few of the sessions happening March 20-24, 2023 (out of 400+) that you can attend with a free ticket:
Explore Bias in Tech
We know that bias is human. Even if it's unconscious, it's there. These biases can become embedded into algorithms where they remain undetected until much later in the design cycle or sometimes even after it has been launched into the market.
Here are sessions that explore the topic of Bias at MozFest Virtual 2023:
The World According to TikTok: Mapping Digital Boundaries and Algorithmic Proximities
As a global social media company, TikTok must operate within and adapt to different cultures and geopolitics, even when it presents itself as a neutral or apolitical platform. This session will present methodologies, tools, and findings for investigating TikTok with the aim of making opaque platform decisions more transparent and as means of holding them accountable. It will primarily focus on recent TikTok research, which compared TikTok's algorithmic feed recommendations (For You Page) across almost 200 countries for non-logged in users.
The Potential of Youth and Identifying Bias in a Future of Fair AI Youth, including youth from underrepresented groups in technology, regularly use AI. AI and data-driven technology can reflect the biases of its creators and society. In this session, learn how youth are not only capable of identifying complex biases in AI, but that they have critical insights that should not be ignored in building a fairer AI future.
Be Bold: Wiki Women in Red Join this round-table discussion addressing society's role in Wikipedia's content gender gap (women and non-binary biographies, their works, their issues), including its effect on reliable sources and establishing notability. We'll go over how to edit Wikipedia, plus tools, photos, social media, and more ways attendees can get involved so that Wikipedia achieves its goal of containing "the sum of all human knowledge".
Disability Inclusive AI & Policy: From AI Bias to Implications in Education, Children & Disability Rights Emerging technology and social AI actively become an instrumental part of educational institutions, practices and curriculums, including special education and ecosystem addressing groups with disabilities or on the spectrum. Join this collaborative workshop that brings a comprehensive view of approaches to disability-centered AI design and human rights, aspects of fairness, transparency and accountability, related ethics and implications.
Beyond the Questionnaire: An Algorithmic Impact Assessment Hackathon Canada has branded itself as a leader in algorithmic impact assessment (AIA). Canada's AIA tool is one of the first AIAs actually being used in government. And by virtue of being open-source, the Canadian government is proposing it as a reusable model for applying AI governance globally. This workshop will build on the promise of an open-source AIA. Using a hackathon format, participants will work in small groups to dissect Canada's AIA tool.
You can view all of these sessions and more on the Plaza.
---
Explore Transparency at MozFest
Transparency is often described as a first step towards holding companies accountable. But what does meaningful transparency look like and how could it spark real change?
Here are sessions that explore the topic of Transparency at MozFest Virtual 2023:
AI Transparency in Practice demystified! Ask us Anything! Join this AMA session, which also serves as the launch for the AI Transparency in Practice Research Report! Discover answers to all your questions around the research findings and AI transparency in Practice, as well as operationalizing AI transparency and its limitations.
The Unfreedom Monitor: A discussion on transparency in technology Join this interactive discussion on how greater use and development transparency with tech, could help communities respond to the threats imposed by digital authoritarianism. The session will illustrate the utility of transparency through real-life events in environments where digital authoritarianism is growing.
Community Transparency: Lessons from Open Source Governance Join this interactive workshop to explore how open source governance structures empower communities and shift power back to the people. We will examine common governance models, share examples of successful implementation, and facilitate a group discussion on applying these concepts to an AI context. Attendees will leave with a better understanding of how transparent governance can benefit their own projects or communities.
A Glass Screen or a Foggy Mirror: Discussing Algorithmic Transparency in the Global South In our session, we aim to explore what the goals of transparency measures should be, how they can be targeted to local contexts and considerations, and the kinds of information that are likely to be useful to different stakeholders. We will also explore the role of the different stakeholders in addressing the harms that have been identified in the context of social media platforms. Though our discussion will draw from global conversations, we hope to identify core considerations for regulators and other stakeholders in the Global South to consider.
You can view all of these sessions and more on the Plaza.
---
Explore Data Stewardship at MozFest
In a world of pervasive AI, who controls our data and what they do with it is a big deal. Data stewardship can determine everything from who can build AI, to who can profit from AI, to what that AI can actually do. New models of governing data are emerging, and you can browse here to learn more about what is possible.
Here are sessions that explore the topic of Data Stewardship at MozFest Virtual 2023:
Tech We Trust: Helping young people understand the ethical challenges of personal data collection and unfair algorithms We need to prepare the next generation of digital leaders to understand the dangers of biased algorithms. To fight that inequality, they need to know how to spot them, and how to tackle them. Tech We Trust is a learning pack that shows young people how their personal data is used to make decisions that affect our lives. We invite you to explore the learning materials created for this pack, and then help generate and prototype new ideas that take these topics further.
Data Breaches: A Venom that poisons all too late, or how the Law needs to properly address data leaks In The United States and Canada, our judicial systems are incapable of properly valuing the immense harm of data breaches. The result has been numerous failed, high-profile data breach class actions where plaintiffs are left alone with no compensation and an ever-present risk of identity theft. This discussion will be peppered with questions and activities where participants can see how data savvy they are when it comes to protection, what data means to them and what they want to see in the future of how data is valued.
Imagining the Data Futures of Aging How are older adults managing their digital identity, access, and privacy in 2023? What might happen in the future of aging? What tools might older adults need to protect and enhance their livelihoods and those who care for them? In this interactive participant-driven workshop, participants will work in small groups to explore these questions in a collaborative space. Participants will receive access to open-source worksheets to continue their explorations of data futures with others.
AI, Blockchain, and Digital currencies: As soon as money becomes bodiless. For a large part of our society, money is something that we view as spiritual. When money becomes entirely 'bodiless,' it presents a new opportunity to restructure the meaning, the supernatural problem of money, as we interact with it symbolically and spiritually. Initially, AI might create disruption and disillusions in an existing ecosystem; however, later, it helps create growth and prosperity for societies not only at an economic and social level but also opportunities that exist at a spiritual level. One of Blockchain technology's missions is to help alleviate class inequalities in our society to create a more equitable, financially inclusive world through the low-cost transfer of value across borders, helping lift the unbanked out of poverty.
You can view all of these sessions and more on the Plaza.
---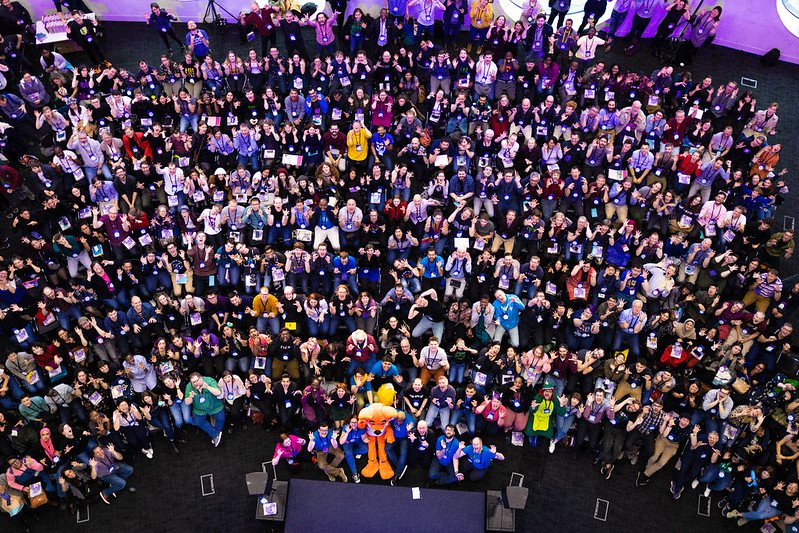 Explore Movement Building at MozFest
Movement building is bringing people together with common goals and interests, and working together towards positive change. For internet health, that means working together with a global community towards more Trustworthy AI and a better, more inclusive digital world.
Here are sessions that explore the topic of Movement Building at MozFest Virtual 2023:
Philanthropy and Social Movements Simply put, movements go through ups and downs. Mobilizations are easy to spot during their peak moments such as when thousands of people take to the streets, but the organizing and capacity-building that takes place during slower, quieter times can help consolidate movement gains and lay the groundwork for future threats. For funders, the important thing is recognizing what stage a movement is in at any given moment and adapting support to that moment's needs. Join us for a fireside chat exploring the role and function of philanthropy in the movement for justice, a healthy internet, and AI that promotes human dignity for all.
Digital rights and socio-environmental climate justice: Technologies, internet and community practices on the horizon of reparation The climate emergency and the need for a fair energy/technological transition place Brazil and the Pan-Amazonian countries at the center of the global dialogue. Discussions about internet governance policies emerge at the confluence of the digital infrastructure reorganizing relations, discourses and power in the face of the climate crisis and possible socio-environmental reparations. Join this session to discuss, exercise, and recognize existing AI practices worthy of trust in tools and projects in the Pan-Amazonian region.
Community-led, decentralized content moderation on the fediverse Currently, content moderation on the fediverse is self-organized and run largely by self-taught volunteers. Each decentralized node is its own community with its own set of volunteers who moderate content. This is excellent for determining whether content violates community norms around behavior, since the moderators themselves belong to the community and have nuanced understanding of what is appropriate. But there are areas of content moderation where expert knowledge is required, such as health misinformation, where volunteer moderators may not be able to make informed decisions. This session will discuss potential solutions to this problem that avoid recentralization and maintain community autonomy while still allowing for outside expert input.
Semente - create community-based digital policy Semente is a participatory toolkit for co-designing community-based digital policy. It was created as a result of a series of collaboration projects between Brazilian activists and organisations and supported by the University of Bristol. The session at MozFest will be an exercise in using Semente to create new or improve existing community-based digital initiatives, such as digital literacy strategies for nonprofits, territory-aware technology alliances, participatory policy-making on a local or regional level, or virtually any opportunity to shape technologies that promote ethical community values.
You can view all of these sessions and more on the Plaza.
---
Three Unique MozFest Experiences
There are 3 special "Experiences" coming to MozFest Virtual this year. These highly focused curations bring to life digital health issues in creative and immersive ways:
The Radical Inclusion Experience invites you to shift your point of view. Through audiovisual activities, storytelling, and much more, we will facilitate connections that explore how our ability, neurodivergence, language, and culture impact how we move through the digital world. Our collective voice can influence the future of the internet and shape Trustworthy AI. At MozFest 2023, immerse yourself in radical inclusivity and the imaginative ideas that are born from it.
The AI Cosmologies Experience is Co-creative; Collaborative; Immersive. Embodied; Emergent. This cosmo-technic inquiry will respond to and evolve around participant offerings, interactions, provocations, and curiosities. Join us in this introspective yet collective wayfinding experiment exploring the complexities of shapeshifting algorithmic (id)entities and spaces.
The Parables Experience is based on the work of award-winning author Octavia E. Butler, illuminating both the roots of systemic oppression AND community-led solutions and strategies in the face of climate catastrophe, criminalization, and exploitation. This experience will feature the work of a diverse range of artists, activists and community organisers who will share the unique intersections of their practices with the themes of Butler's Parable of the Sower and Parable of the Talents.
We're also excited about the MozFest & Hubs Collaborationhappening this year! Hubs and MozFest share a vision to create a better digital world where everyone has the opportunity to learn, create, and connect. We believe in the power of making the web more immersive, so we can bring the best parts of face-to-face interaction online. Check out how Hubs and MozFest are working together to make 2023's immersive sessions a success:
MozFest is part art, tech and society convening, part maker festival, and the premiere gathering for activists in diverse global movements fighting for a more humane digital world. To learn more, visit www.mozillafestival.org.
Sign up for the MozFest newsletter here to stay up to date on the latest festival and internet health movement news.
Kristina Gorr
Kristina Gorr is a storyteller and strategist who loves using her passion for writing to pull together communication campaigns for MozFest and the internet health community. Her Mozilla superhero powers include curating content from the community, mad organizational skills, rallying and connecting the community, and lending her eagle eye to those who need editing assistance.