When I was invited to participate at MozFest as a Mozilla Foundation staff member back in 2016, I had no idea what to expect. Sure I did my homework: went to the website, discussed it with my colleagues, read blog posts, and saw pictures. However, none of that compares to the real experience of participating in the festival.
Looking back at the event, the tagline "Arrive with an idea, leave with a community" really portrays the experiences I've had and I highly recommend people take the time to participate at MozFest. It is truly one of the coolest experiences I have ever had at an event.
To help those of you who might be considering attending MozFest for the first time, I wanted to share with you my top five MozFest memories of all the years I've been there, from five different perspectives.
My Top 5 MozFest Memories

My Favorite Memory As Mozilla Staff
As a Mozilla Foundation designer, my role in MozFest 2016 (my first MozFest) was to help to set up the environment for the festival. Led by Sabrina Ng, the Creative Design Lead who did the amazing visual identity of that year, I was cutting posters, hanging things on the walls, sticking vinyls to the floor to facilitate wayfinding, solving last minute issues on digital files to print at Ravensbourne University (the place where MozFest was hosted that year in London – such a cool building), among other tasks. I loved doing this work. It was very satisfying to see people entering and using the space on the days of the festival, finding the areas they were looking for and interacting with the design pieces we worked on. It made me very happy to see the results of our work as a production team in real life instead of just on our computer screens.
My Favorite Memory As 1st-time Attendee
I was a bit anxious about feeling lost in the festival, even isolated because I was new and didn't know many people. This fear got dissolved quickly. As I attended some sessions, people would come to chat with me, I got to know many interesting people from so many different backgrounds: from artists to journalists and technologists. The atmosphere is very welcoming and I never felt out of place. If you are new to MozFest and not sure you should attend I highly recommend it to you, people are very welcoming and you will learn a ton of cool new things.
My Favorite Memory As A UX Designer
In, 2018 and 2019 I took the opportunity to do user testing at MozFest with my teammates and I had such a great time interviewing people about the projects we were building, getting their thoughts to help us build a better version of our digital properties. One example of where we used their input is our current Mozilla Foundation site. You can see the before/after here:
This experience was not only valuable to the Foundation, but allowed the MozFest community to contribute to one of the most visited Mozilla digital properties (our homepage had around 278K pageviews in 2020).
My Favorite Memory As A Session Participant
I remember going to a session in the Youth Zone (one of my favorite spaces) in which a kid (he may have 12-14 years at the time) was teaching us how to set up a radio station. It was so cool! He had a powerpoint presentation, clear communication skills and a great technical knowledge. He was teaching me how to code things and I am a woman in my 30's! His abilities blew my mind and I was so excited to see the opportunity youth are given at MozFest to build up their leadership and skills at a young age. It was a great experience.
My Overall Favorite Mozilla Festival Memory
The experience and energy at MozFest is amazing. From the opening talk, with the famous group photo and the inspiring words from those on the main stage, to the variety of interactive stations (and posters promoting different sessions), the environment is immersive and exciting. I was having lots of FOMO (fear of missing out) because there are so many interesting sessions I wanted to attend and I couldn't go to them all. I also loved the Dialogue and Debates I attended. When I think back to all of the past MozFests I've been to, what stands out to me is the positive and welcoming energy, plus all the deep thinking that happens in a very relaxed and friendly atmosphere.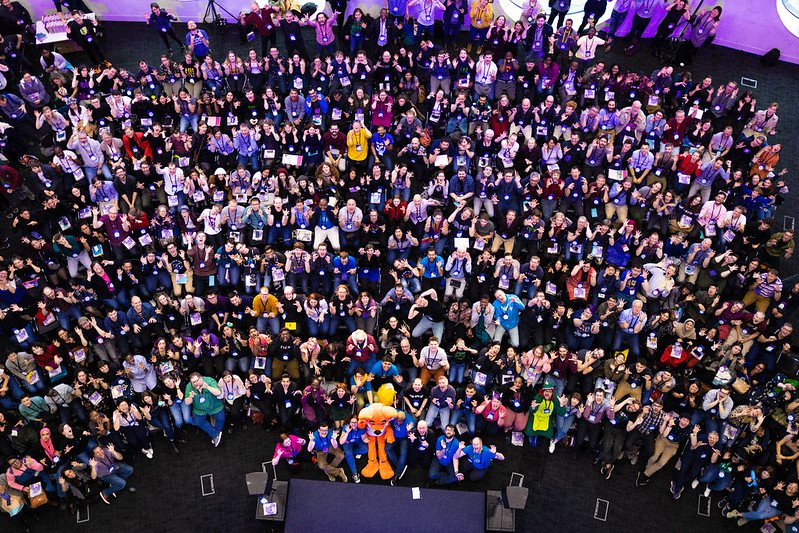 It is unfortunate we can't all be together in person this year, but I am positive the virtual experience will be as amazing as the ones I had in person. MozFest will leave you feeling energized after the tough year we had and, let's be honest, we all need those good vibes, right?

I am looking forward to being immersed in this environment again (now virtually, from the comfort of home) and I can't wait to see you there too!
MozFest is part art, tech and society convening, part maker festival, and the premiere gathering for activists in diverse global movements fighting for a more humane digital world. To learn more, visit www.mozillafestival.org.
Sign up for the MozFest newsletter here to stay up to date on the latest festival and internet health movement news.