TikTok is failing to uphold its policies and promises amid Germany's Bundestag election, according to new Mozilla research
---
(BERLIN, GERMANY | 16 September, 2021) -- TikTok has broken three public promises to curb disinformation ahead of Germany's Bundestag election on Sunday, 26 September, according to a new investigation released today by Mozilla.
Mozilla's research reveals that TikTok's automated election labels aren't working correctly; that its much-touted fact checking partnership with Germany's largest press agency, dpa, started only weeks before the election; and that its community guidelines — especially around fake accounts — are not being enforced.
READ THE REPORT: Broken Promises: TikTok and the German Election
TikTok is one of the fastest growing social media platforms in the world. In Germany alone, TikTok reports approximately 11 million users, or roughly 13% of the German population.
"While TikTok's election promises sound good on paper, our research reveals that the platform is struggling to curb disinformation in advance of the German elections," says Becca Ricks, the Mozilla researcher who co-led this investigation. "TikTok's enforcement efforts have so far been insignificant and largely unsuccessful, leaving it up to German voters to separate fact from fiction."
"TikTok is shaping political discourse, especially as more and more political groups join the platform," says Marcus Bösch, an independent researcher in Germany who partnered with Mozilla and co-led this investigation. "But amid this critical election period in Germany, TikTok isn't living up to the responsibilities that come with its new influence."
Ricks adds: "With major elections coming up in France, Kenya, Brazil, and the U.S. in 2022, TikTok needs to significantly step up its game and invest in comprehensive strategies and tools to curb election disinformation."
TikTok's enforcement efforts have so far been insignificant and largely unsuccessful, leaving it up to German voters to separate fact from fiction."
Becca Ricks, Mozilla researcher
Mozilla began researching TikTok's approach to the German election in July 2021, using desk research, interviews, and various qualitative methods. Highlights of the investigation include:
---
BROKEN PROMISE 1 ❌
Fake political accounts and other election disinformation exist on TikTok. TikTok promised to strictly enforce its Community Guidelines, but it is not. Researchers uncovered several TikTok accounts with significant followings that are impersonating prominent German political institutions and figures, a clear violation of the platform's guidelines.
For example, the handle @derbundestag impersonates an official Bundestag account, shares partisan content, and has amassed 14.1K followers and 130.8K likes: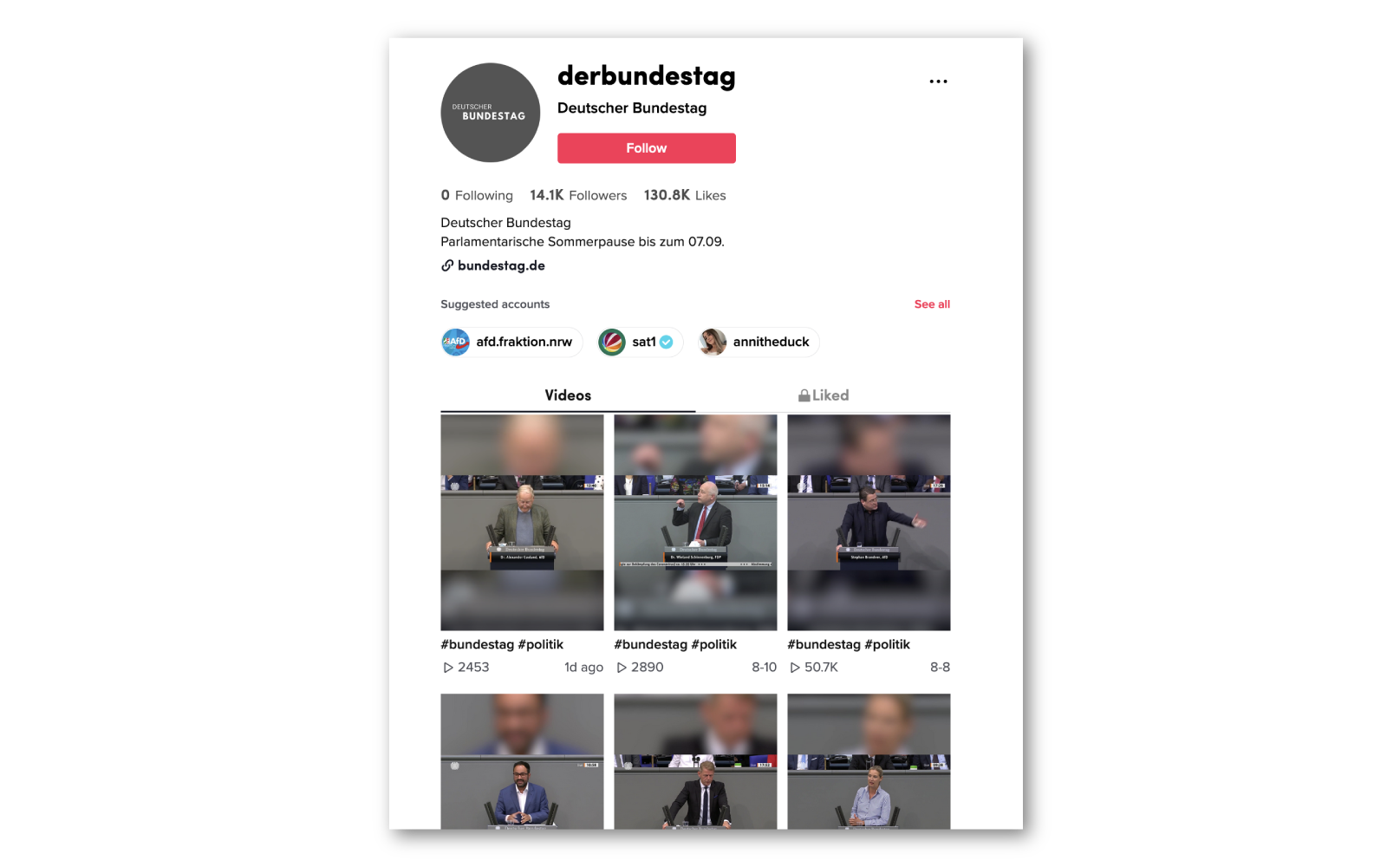 And the handle @frank.walter.steinmeier impersonated Bundespräsident Frank-Walter Steinmeier, the president of Germany. The account frequently posted videos promoting the German military and amassed 3,000 followers and 72.3K likes. (TikTok has since deleted the account, but it is unclear how long the account was up, who ran it, and what kind of impact it may have had on German users.)
---
BROKEN PROMISE 2 ❌
TikTok's automated election labels aren't working. TikTok's automated approach to labeling content about the German election with informational banners is not effective, with videos being improperly labeled.
For example, election labels appear on all content that uses the hashtag #SPD. Yet much of #SPD content doesn't refer to the German political party Sozialdemokratische Partei Deutschland — it refers to issues like Sensory Processing Disorder, Schizoid Personality Disorder, Schizotypal Personality or Sexual Pleasure Device.
Conversely, the official AfD TikTok account (@afd.offiziell) includes some unlabeled posts. Despite the fact that most posts by the account are related to the election, some go unlabeled because they do not include the pre-defined hashtags by TikTok.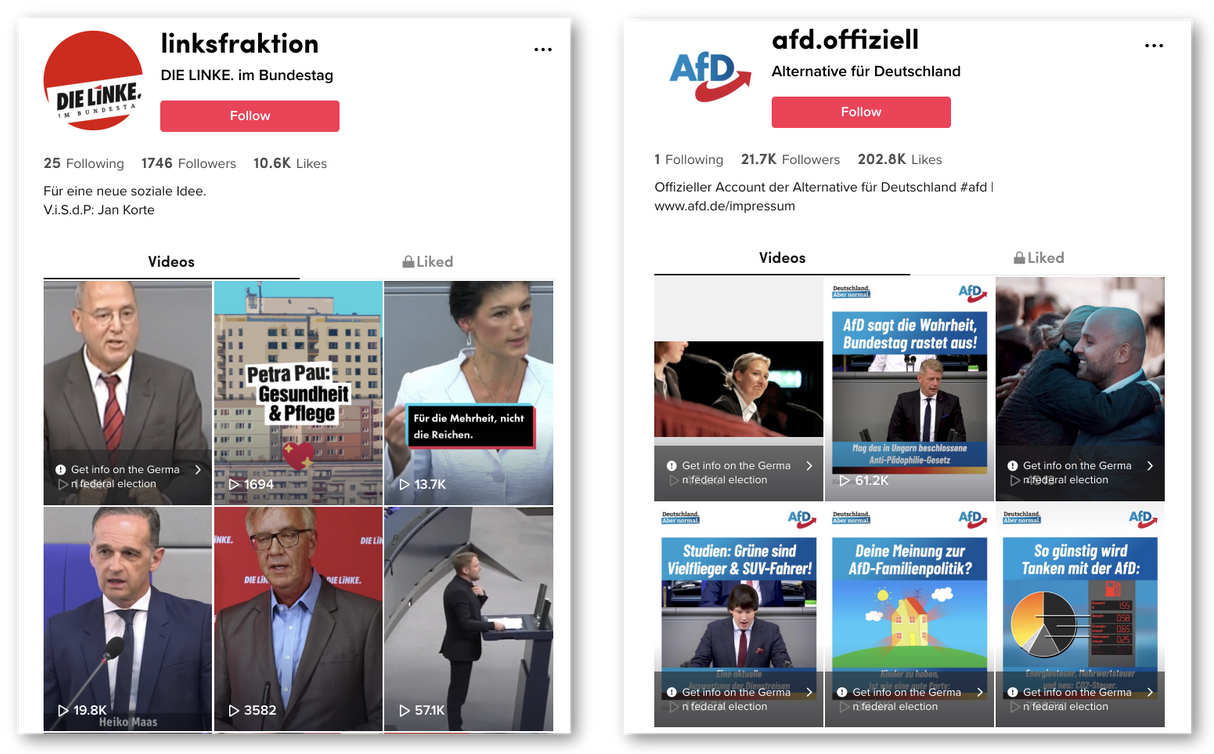 ---
BROKEN PROMISE 3 ❌
TikTok began fact checking election content too late. TikTok promised to fact-check Bundestag Election content through a much-publicized partnership with Deutsche Presse-Agentur GmbH (dpa), the largest press agency in Germany. But Mozilla researchers learned that this contract was signed, and that this fact checking began, only recently. This is concerning, as disinformation campaigns generally begin many months ahead of election day.
---
Mozilla's research also outlines four steps TikTok should take to address these problems and live up to their promises. These steps include investing more resources in its labeling mechanism; starting election fact checking earlier; better enforcing the platform's Community Guidelines; and creating a public API that would allow independent researchers to better study content removals.
UPDATE, 16 SEPTEMBER: "Mozilla's research uncovered several fake TikTok accounts that had been running for months and attracted thousands of followers," says researcher Becca Ricks. "TikTok removed one such account this week — @derbundestag — after reading our report. It's encouraging that TikTok is finally enforcing its policies, but also concerning that they're only doing so right before the election."