Since its inauguration in 2016, the Mozilla Open Leaders programme has inspired hundreds of open enthusiasts and empowered them to work and lead openly (#WOLO). In June 2019, Mozilla decided to take their Open Leaders programme to the next level, by organising Open Leaders X, a "train-the-trainers" programme with the aim to empower teams in different areas related to the Internet Health Movement to build their own community-driven open leaders programmes.
Mentorship is an important part of the Mozilla Open Leaders programme model. For this reason, members of two of the OLX teams: Yo Yehudi from Open Life Sciences, and Emmy Tsang from eLife Innovation Leaders, decided to use the Mozilla Festival as an opportunity to explore what constitutes an effective mentorship programme, by building a mentorship programme together with MozFest participants. In the one-hour session, participants shared their personal experiences as mentees, mentors and mentorship programme organisers, and discussed three important decision areas for a mentee joining a mentorship programme:
Goals: What kind of outcomes do you envision to achieve at the end of a mentorship programme?
Incentives and hurdles: What would encourage/deter your application?
Concerns: What would you worry about? How can organisers better address those concerns?
We hope to capture some of the discussions with this blog post and to share this as a resource for organisers and participants of present and future mentorship programmes.
What would you envision to achieve at the end of a mentorship programme?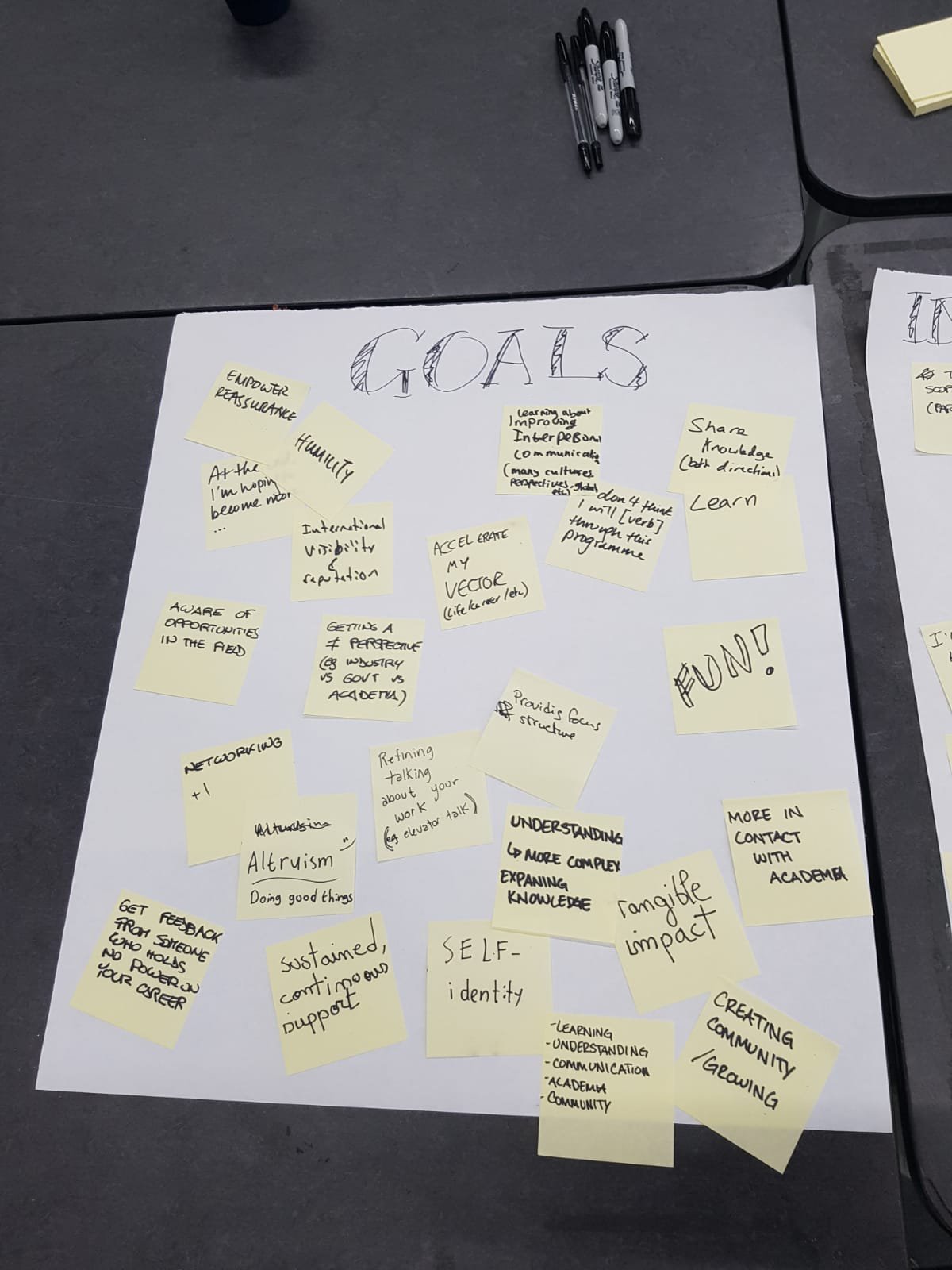 While mentorship programmes can differ in scope and format, one consistent feature that differentiates it from a learning programme without a mentorship component is a mentor-mentee relationship. Having a mentor can mean having someone to provide sustained, continuous support and feedback, to direct you to relevant opportunities that you may otherwise not be aware of, or a different perspective. Healthy, constructive mentor-mentee relationships should empower mentees and reassure them of their progress through the programmes, as well as provide them with a more structured understanding and expand their knowledge. Mentees are looking to improve their interpersonal and communication skills through a mentorship programme, as well as build a network and community. They would also like to learn to listen to feedback and learn from others around them.
Incentives and hurdles
It is often difficult to describe what exactly joining a certain mentorship programme would entail– the best way to obtain more information is to be able to talk to past participants of the programme. Designing a system where potential participants can get in touch with alumni of the programme to get a better picture of the programme and ask questions is a great way to encourage applications, as well as personal invitations and recommendations to participate.
The reputation and prestige of a membership programme can also influence potential applicants' decision and incentivise applications– applicants are more likely to participate in programmes that are institutionally valued or useful for their careers.
There are also a number of logistical hurdles deterring applications, including cost, timing, location, scope, long application processes, and language barriers. While it is important to increase accessibility and remove some of these barriers, programme organisers also need to acknowledge that some hurdles need to exist and make sure that they're communicated clearly and early.
Finally, session participants also discuss their fears regarding stereotypes and expectations from mentorship programme participants. It is therefore important for mentorship programme organisers to state clearly the expected prerequisites (or the lack thereof) and to empower potential participants to apply. One way to achieve this is to share the stories and journeys of programme alumni, such that potential participants can understand the multiple entry points to the programme.
Addressing concerns
Joining a mentorship programme can be a big investment and commitment in terms of time. Unmet expectations, bad mentorship styles, inadaptability to individual needs and the lack or unclear communication of a learning structure can all result in mentees feeling let down and that they're wasting their time. When organising a mentorship programme, one should create adequate and easily accessible channels for mentees to provide feedback and suggestions, and any concerns should be followed up with promptly (and that processing of following up communicated clearly). Organisers should also regularly check in with mentees and mentors to make sure that they are supported and progressing, and to find out any additional needs.
It is also crucial to make sure that programme participants feel safe and included. Having a Code of Conduct with clear, actionable reporting guidelines can go a long way. If capacity and resources allow, it is also worth exploring arrangements and onboarding mechanisms to make the programme more accessible and inclusive.
Final thoughts
It was a very constructive and fruitful discussion session, and it was great to hear the different perspectives from mentees/mentors/organisers of past mentorship programmes.
To aid execution, we summarise the thoughts and feedback from the session below as a small checklist for mentorship programme organisers.
Communicate, communicate, communicate: time requirements, prerequisites, programme structure, what participants will and will not get from the programme
Provide ways for potential participants to interact with alumni of the programme, and/or share past/expected student journeys and experience
Actively check in with and collect feedback from mentors and mentees during and after the programme
Have a Code of Conduct with clear enforcement procedures
Think about accessibility and inclusion for the programme; allow potential participants to communicate their needs early so that potential arrangements can be discussed
Contributors and thank yous
This session and post comprise the thoughts of the organisers and participants at the "How to run an effective mentorship programme" session at the Mozilla Festival 2019:
Yo Yehudi @yoyehudi (organiser & facilitator)
Malvika Sharan (organiser)
Berenice Batut (organiser)
Emmy Tsang @emmy_ft (facilitator)
Rob Schaefer @CSciBio (participant)
Arianna Soldati @ariannasoldati
James Curtis @jamescurtis29
Sara @yalahowy
Ahmed @ ahmedmedien
Sara @sarahnewmedia
Mauricio Salatino @salaboy
Peter Wu @lekensteyn
We would also like to thank the Mozfest 2019 Openness space wranglers and organisers for supporting this session.