At the Café
We arrived at the Feel Good Club in Manchester, a coffee shop focused on mental health and bringing the feel good message to folks online and offline where MozFest was hosting the second iteration of the Ethical Dilemma Café in partnership with the BBC R&D team. There were installations set up around the space, a stage for talks at the top near the entrance, and a workshop space semi-sectioned off, with a lovely glass room towards the back. All the different sections bled into each other seamlessly – the cafe flowed as it did on any other day with gentle interruptions and installations that invited folks to consider the dilemmas around data. Parked outside was a Mundane Future Caravan that compelled passersby towards it even if just to take a peek inside.
There was one single caveat: you could get free coffee if you were willing to give away information about yourself. Free coffee and giving away information might err on the fun side, and in a sense it did, but it aimed to demonstrate a more dangerous reality. Data dilemmas exist all around us, embedded in the AI powered technologies that we use. We are giving away our private and personal information, knowingly and unknowingly, on a daily basis, in exchange for using an app or service.
So what are today's most pressing data dilemmas? Which ones are we able to live with? And which ones scare us to the core? Over two days, the Ethical Dilemma Café hosted talks, workshops, and projects that addressed these questions and proposed ways of navigating them.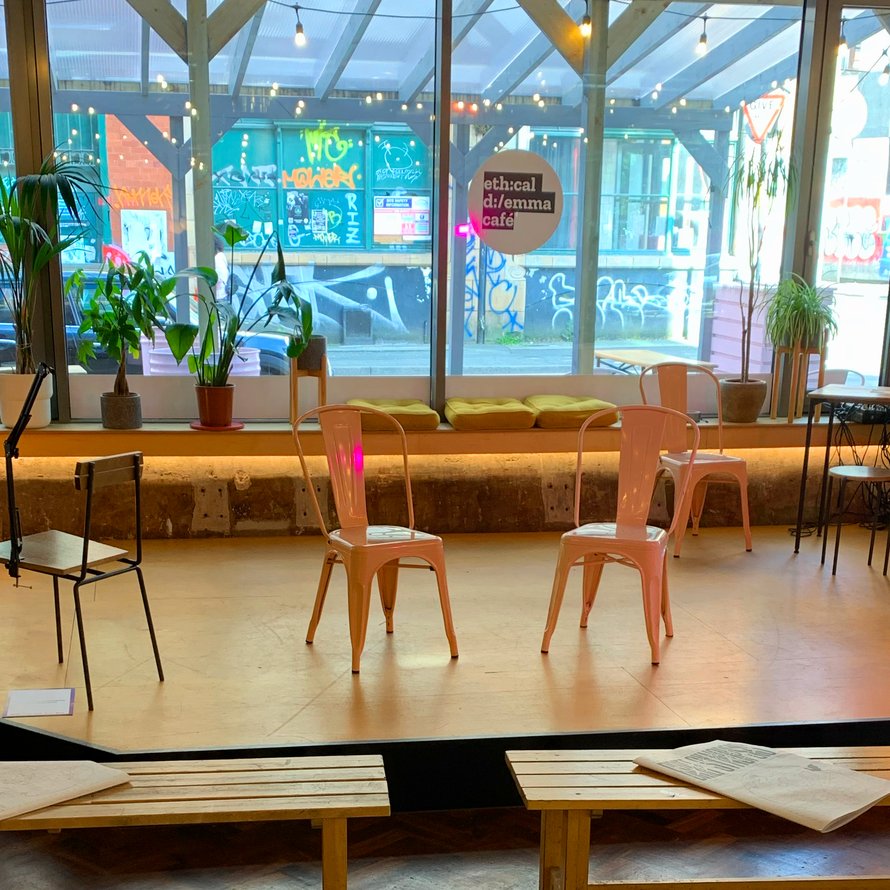 MozFest And Data Dilemmas
The Ethical Dilemma Café event in Manchester was the second iteration of the event which started in 2014. At the time, ethical dilemmas around data were emerging in the form of internet mass surveillance: what did privacy infringement look like, and what was an ethical data exchange and how could we tell the difference? Today, in 2022, with the effects of the pandemic and looming world crises at the fore, how have these dilemmas evolved? What are we most concerned about? And what have we not even started to explore?

The 2022 event came at the tail end of covid restrictions in the UK, and that meant meeting again in person over a workshop table was possible – and joyful. It meant exchanging ideas did not take place over Zoom or Miro boards, and we were able to engage again through body language and nods. And if we might have thought that we were not facing the same data risks of being online, the space had robot cameras and microphones, that were being controlled by folks who were not at the venue (a reverse metaspace concept), roaming around and recording people's conversations. These robots were meant to very overtly point at how most of our spaces (offline and online) have become arenas for data extraction.
The MozFest community, local community just walking by, and others who entered the café all found themselves at the coffee counter exchanging information for lattes followed by exchanging fears over their data.
Workshops, talks, and installations were held by Mozilla, BBC R&D, Open Data Manchester, ICO, Northumbria University, and the University of Lancaster. The topics explored ranged from deepfakes, the personalization of news, Trustworthy AI and movement building, coding for children, to the oppositional nature of memes and news during the pandemic, and how voice technologies can reflect the diversity of our languages.
The takeaways were multifold, many of us leaving with more questions than answers. One of the questions raised in a workshop where we were designing an app for children was: how to make privacy ~ cool and trendy ~? And then how do we break out of industry norms that perpetuate these dilemmas? The Ethical Dilemma Café did a little bit of both: it set up shop in a very chill environment, situating dilemmas side by side with coffee, and encouraged a wide range of attendees to think about data issues outside of the frame within which we usually experiencing them in the hopes to inspire new and possibly very cool ways of rethinking the data world.
If you weren't able to attend the Ethical Dilemma Cafe in person, you can read about the first iteration in the How To MozFest Book and watch the incredible video recap of the second iteration in Manchester from community member Craig Steele. You can also secure a free, on-demand ticket to Mozilla Festival 2022 and access hundreds of sessions about data, privacy, AI, and more.
Zeina Abi Assy is a writer & designer, and the Partnerships and Dialogue lead on the MozFest team.
MozFest is part art, tech and society convening, part maker festival, and the premiere gathering for activists in diverse global movements fighting for a more humane digital world. To learn more, visit www.mozillafestival.org
Sign up for the MozFest newsletter here to stay up to date on the latest festival and internet health movement news.