After being apart for 3 years, the Mozilla community held its first in-person MozFest event this week in Amsterdam. Held in the beautiful Tolhuistuin venue, 300+ builders, activists, researchers, and civil society members gathered from all across Europe to talk about all things Trustworthy AI for 2.5 days.
Surrounded by beautiful greenery and the smell of trees, we all gathered together outside the Tolhuisten for a garden party on Day 1. Many of us reconnected with each other for the first time in real life, saying hello and hugging after confirming that the familiar face in person was indeed the same one from Zoom.
The two days that followed were jam-packed days of 84 workshops, round tables, interactive installations, exhibitions, feedback sessions, podcasts, interviews and performances.
Dialogues and Debates
A) Keynote Talk - Frances Haugen
The keynote at MozFest House Amsterdam featured Frances Haugen, the Facebook whistleblower who further exposed the platform's ability to incite hatred, spread misinformation, and foment political unrest.
J. Bob Alotta, SVP Global Programs at the Mozilla Foundation, kicked off the conversation by centering the conversation on the collective power of people. She acknowledged that things can feel daunting right now. Spaces can feel "unmediated" and that "finding our authentic voices might be challenging" in this day and age.
Frances walked us through historical examples of social change, and emphasized how social and collective change starts at an individual level. Following the keynote, we had a moderated conversation between Mark Surman, President of the Mozilla Foundation and Frances. The conversation touched on themes like journalism, democracy, and social media content moderation.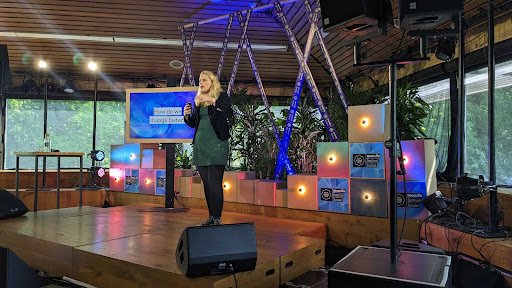 B)Navigating Deceptive Design and Regulation in the EU
Have you ever tried to cancel an online subscription that was really easy to sign up for, but feels impossible to cancel? There's a term for that – dark patterns. Dark patterns and deceptive design is when websites and software engage in intentional harms.
Day 2's Dialogues and Debates was all about Navigating Deceptive Design and Regulation in the EU. The panel was moderated by Kush Amlani, Global Competition & Regulatory Counsel at Mozilla, and featured two panelists. Both Dries Cuijpers, a lawyer with the Consumer Division of the Netherlands Authority for Consumers and Markets (ACM), and Constanța Roșca, a multidisciplinary PhD researcher at Maastricht University shared examples and analysis of dark and deceptive patterns on the web, along with the legal and policy considerations we should be thinking about.
C)Life Online: Race, Class, Fame & Harm
The last D&D was a session on how the influencer economy perpetuates power structures online. THe conversation focused heavily on how racial & class divides are heightened in a world where big tech is largely US-based. Seyi Akiwowo shared her personal experiences with online abuse. When asked what brings him hope, Symean Brown talked about how connecting offline is critical and talked about how MozFest makes him feel "more optimistic about the possibilities" because you can meet others who "share similar sense of hope".
Roundtables, Workshops, and Online Fringe Events
The in-person event also had dozens of workshops on all things trustworthy AI. Here is a small sample:
Tiwanee Van der Horst led us through an interactive session on how power dynamics influence the creation of an AI system
A session on the implementation of the Digital Services Act at the EU level, led by the Mozilla Foundation and European Center for Not-for-Profit Law Stichting (ECNL)
An interactive workshop led by Craig Steele and Daniel Devine where participants got a hands on experience in designing an algorithm and thinking through ethical challenges of personal data collection
A session on free legal support available for digital rights activists, co-hosted by the Thomson Reuters Foundation and Access Now
A session on critical feminist interventions along the AI system life cycle, led by Mozilla Foundation's Bogdana Rakova
The closing circle was a highlight for all, where we all reflected what happened over the last few days, and singer-artist Toshi Reagan led the entire group through a beautiful musical journey that had everyone on their feet and singing.
Make sure to also check out recordings of the online Fringe Events that also took place during the week, covering topics ranging from the impact of social media decay on non-profit communities, generative AI policy, and sustainable tech.
Stay Connected
At the end of Amsterdam House, we announced that MozFest House Kenya will be happening in September 2023. Stay tuned for more updates by signing up for the MozFest newsletter, and follow us on Twitter at @mozillafestival!
MozFest is part art, tech and society convening, part maker festival, and the premiere gathering for activists in diverse global movements fighting for a more humane digital world. To learn more, visit www.mozillafestival.org.
Sign up for the MozFest newsletter here to stay up to date on the latest festival and internet health movement news.
Seher Shafiq
Seher is Mozilla's Wrangler Program Manager on the MozFest team. She has a deep interest in the intersections of democracy & tech, with a focus on those under-represented in both.